Paddy Power is ordered to withdraw Oscar Pistorius advert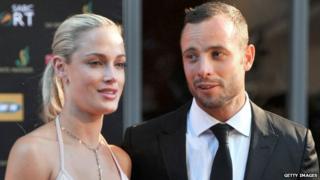 Paddy Power has been told to withdraw its Oscar Pistorius advert with "immediate effect" after it became the most complained-about UK campaign ever.
The Advertising Standards Authority has ordered the bookmaker to remove the newspaper advert, which offers "money back" on bets if the South African athlete is found not guilty of murder.
More than 5,200 complaints have already been made, the ASA said.
Mr Pistorius is accused of murdering his girlfriend Reeva Steenkamp.
The ASA ordered the removal of the advert after "an unprecedented number of complaints".
It said it was investigating whether the ad is "offensive for trivialising the issues surrounding a murder trial, the death of a woman and disability".
The ASA is also investigating whether it "brings the good reputation of advertising generally into dispute".
Paddy Power's advert featured a photograph of Mr Pistorius, a double amputee Olympic racer and a Paralympic gold medallist, mocked up as an Academy Award statuette.
'Offensive'
"We consider the ad may be seriously prejudicial to the general public on the ground of the likely further serious and/or widespread offence it may cause", the ASA said.
"We are also concerned that the good reputation of the advertising industry may be further damaged by continued publication of this ad."
ASA chairman, Lord Smith said it had taken the "unusual step" of directing the advertiser to withdraw the campaign before the outcome of an investigation.
The campaign was run to coincide with the Oscar ceremony in Los Angeles and the first day of Pistorius' trial in South Africa, for which the bookmaker is offering odds.
Prosecutors allege Pistorius, 27, shot his model and reality TV star girlfriend through the bathroom door at his home on Valentines' Day in 2013. Pistorius claims he mistook her for an intruder.
An online petition, claiming that making money from the trial is "vile" and "offensive", has been signed by 120,000 people.
The number of complaints to the ASA has already surpassed a 2005 Kentucky Fried Chicken advert, which was the previously the most complained-about UK advert.
It featured call centre workers singing with their mouths full and drew 1,671 complaints.