Religious animal slaughter change urged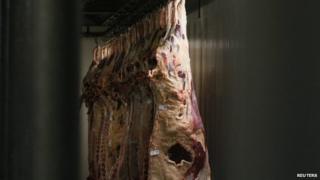 The practice of slaughtering animals by slitting their throats and draining the blood in line with religious custom should be adapted to prevent suffering, the leader of Britain's vets has said.
John Blackwell, head of the British Veterinary Association, said animals should be "stunned" before slaughter.
The practice is traditional in Judaism and Islam.
Jonathan Arkush, from the Board of Deputies of British Jews, said Mr Blackwell's comments were "misleading".
Mr Blackwell told BBC Radio 4's Today programme that animals should be "stunned at the time of death", which would render them "insensible to pain until death supervenes".
"It's important at the time of death for the animals' welfare not to be compromised," he said, while adding that he "respected the beliefs of religious sects".
'Inflamed prejudice'
He said that sheep could remain conscious for up to seven seconds after having their throat cut, while for cattle it was two minutes.
He said there was "good evidence" that showed that animals could perceive pain at the point of having their throats slit, but he conceded that this research was not conclusive.
Animal rights should come before religious beliefs, he added.
But Mr Arkush, who is the vice president of the Board of Deputies of British Jews, said the Jewish slaughtering practice was a "humane act designed to bring about the animals' end very quickly".
He said that Mr Blackwell's remarks were "completely misleading" and criticised him for "speaking in a way that inflamed prejudice".
He said: "Animal welfare organisations have shown that pre-stunning fails to stun in between nine and 31% of cases.
"When an animal is 'miss-stunned' it suffers enormous pain and distress."
Mr Arkush went on to say he opposed use of the word "ritual" as there was "no ritual in the slaughter of food for the kosher market".
Deputy Prime Minister Nick Clegg also disagreed with the views of Mr Blackwell .
He said that stopping this type of slaughter would "remove the right of Jewish communities in this country, Muslim communities in this country, to stick to their religious beliefs about how they prepare food and how animals are slaughtered".
UK legislation allows halal (Muslim) or shechita (Jewish) "non-stun" slaughter as long as it does not cause "unnecessary suffering".
Ritual slaughter is lawful in the UK and the EU to satisfy the dietary requirements of Jews and Muslims.
The British Veterinary Association (BVA) is a voice for the UK veterinary profession and has over 14,000 members.