Prince Edward celebrates 50th birthday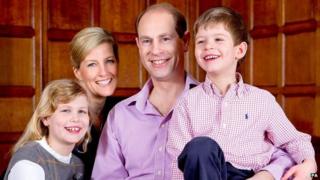 A photograph of the Earl of Wessex with his wife and children has been released to mark his 50th birthday.
Prince Edward, who turns 50 on Monday, was pictured with his wife the Countess of Wessex, and their children Lady Louise Windsor, 10, and James, Viscount Severn, six.
The image was taken in the dining room of Bagshot Park, their home in Surrey.
The earl and countess will take part in two engagements in support of their charity, Wessex Youth Trust, on Monday.
The photograph was taken by Millie Pilkington, the Duke and Duchess of Cambridge's private wedding photographer.
The earl and countess were married at St George's Chapel in Windsor on 19 June 1999, after meeting at a real tennis event - from which the modern game is descended - in the early 1990s.
The couple, who set up the Wessex Youth Trust shortly before their wedding, will visit Robert Browning Community School in Walworth, south London, on Monday to see the work of youth charity Kidscape.
The charity received a grant from the trust in support of its bullying intervention programme.
They will later visit London's Air Ambulance to see how another grant from the trust has helped support its work by funding paediatric training mannequins.
The couple are then due to join the Queen and other senior members of the Royal Family at the Commonwealth Observance Service at Westminster Abbey.