Operation Elveden: Ten get bail in illegal pay probe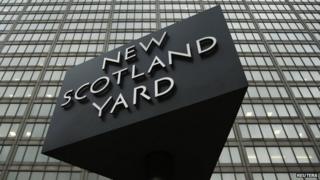 Ten people have appeared in court in connection with Operation Elveden, the Scotland Yard inquiry into alleged payments to public officials in return for information.
They include two policemen, three Sun journalists and a former Daily Mirror journalist.
The offences against them relate to allegations of misconduct in a public office between 2006 and 2011.
All received bail until a further court hearing at the Old Bailey on 27 March.
The Sun's home affairs correspondent, Tom Wells, and Sun reporter Neil Millard are charged with three counts each of conspiracy to commit misconduct in a public office.
Brandon Malinsky, night news editor at the same paper, faces one charge of conspiracy to commit misconduct in a public office.
They appeared at Westminster Magistrates' Court alongside former Daily Mirror journalist Graham Brough, who faces a single charge of conspiracy to commit misconduct in a public office.
He was working at the Daily Mirror at the time of the alleged offence but left in June 2010, according to owners Trinity Mirror.
The accused appeared alongside Reggie Nunkoo, Mark Blake and Rosemary Collier, whose jobs have not yet been revealed by the Crown Prosecution Service.
Also accused are Sam Azouelos and Tim Edwards, both Metropolitan Police officers, and Simon Quinn, a former Surrey Police officer.
None of the ten people entered a plea at Monday's proceedings.
Operation Elveden is running alongside Operation Weeting, which is looking into allegations of phone hacking, and Operation Tuleta, which covers claims of computer hacking and other privacy breaches.
The investigations were set up in the wake of the phone-hacking scandal that led to the closure of Sunday tabloid newspaper the News of the World.