Syria fighting: Police make four terror arrests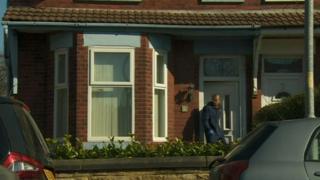 Three men and a woman have been arrested on suspicion of Syria-related terror offences.
Two men aged 29 and 18 from Levenshulme in Manchester, a 21-year-old woman from Trafford and a 29-year-old man from Oxford are in custody.
They are being questioned in Manchester on suspicion of being concerned in the commission, preparation or instigation of acts of terrorism.
A number of properties are being searched.
One of the men arrested in Manchester is the brother of Mohammed Azzam Javeed, who is missing in Syria.
The teenager travelled out to Syria in the autumn and has not been heard of since.
Detective Chief Superintendent Tony Mole, head of the the North West Counter-Terrorism Unit (NWCTU), said the arrests were not linked to any imminent threat.
He said the operation had been running since autumn 2013 "since we first became aware of a number of individuals travelling from the North West to the battlefields of Syria".
"Like other major cities across the UK we have been aware for some time of people travelling to war-torn places for terrorism-related purposes.
"This is not a problem unique to Manchester or the North West - it is an issue that affects different communities across the country and elsewhere.
"We look at every case on its own merits, but travelling to a warzone in order to be involved in conflict, or supporting those who do so, could make you potentially liable to prosecution for terrorism offences.
"Also, as well as posing a risk to themselves, there is the very real threat that they could pose a danger to our own communities when they return to the UK."
The latest arrests come after Sir Peter Fahy, Chief Constable of Greater Manchester Police, told the BBC in January there was "huge concern" that Britons arriving back after fighting in Syria posed a threat to the UK.