G4S repays UK government £108.9m after tagging scandal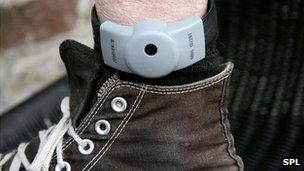 Troubled security firm G4S has agreed to repay £108.9m plus tax to the UK government after overcharging on contracts to tag offenders.
The payment is higher than the £24m offered last year by G4S, which faces a fraud inquiry into the tagging scandal.
On Wednesday, G4S set aside £386m to cover restructuring costs after "an extremely challenging year".
Included in the restructuring charge was a £136m hit, partly related to a scandal in which the government was charged for tagging people who were either dead or in jail.
Justice minister Chris Grayling said that the tagging repayment was "a welcome step, which recovers in full the money owed to the taxpayer".
Serco agreed to repay £70.5m plus tax in December.
The two companies were stripped of their tagging contracts in the UK last year.
G4S said it was unlikely to win any new business with the government "while the electronic monitoring issues prevail".
"The conclusion of the Cabinet Office and Ministry of Justice reviews, and the agreement of a settlement with the MoJ, are important milestones for the group," said chief executive Ashley Almanza.
On Wednesday, G4S reported a £170m pre-tax loss for last year, down from a £158m profit the year before.
Chief executive Ashley Almanza said "clear action" had been take to address the company's problems.
However, shares in G4S fell more than 5% in afternoon trading.
Annually, group revenues increased by 5.8% to £7.43bn, with emerging market revenues up 16%.
Mr Almanza said in a statement: "This has been an extremely challenging year for G4S. We have taken clear action to address longstanding issues and have introduced wide-ranging changes to strengthen our business.
"We can now look to the future with increasing confidence, focusing on the growing demand for G4S services that underpins our plans to deliver sustainable, profitable growth."
The firm failed to hit analyst forecasts for group underlying profit in 2013, Cantor Fitzgerald analyst Caroline de La Soujeole said.
Analysts had expected profits of £455m, as opposed to the actual underlying profit of £442m.
"The share price tells you everything you need to know about the results and what people thought of them," she told the BBC.
Despite the company's lack of new UK government contracts, Ms de La Soujeole expects G4S to be allowed back into the fold at some point, thanks to the government's desire to have a choice of different contractors.
"We fully expect G4S to eventually be allowed to start rebidding for UK government work, but it may take more time," she said.
UK government contracts usually account for about 10% of G4S sales, she said.