Phone-hacking trial: Princess Diana 'gave royal phone book to NoW'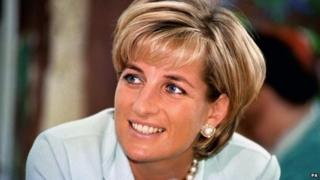 Diana, Princess of Wales, gave a royal phone book to the News of the World in order to "take on" her estranged husband, the Old Bailey has heard.
Former NoW royal editor Clive Goodman told the phone-hacking trial he was sent the 1992 book because she was looking for "an ally" in the press.
She wanted to show the forces "ranged against her" in a "bitter situation" with the Prince of Wales, he said.
Mr Goodman is accused of paying police for royal phone books, which he denies.
The BBC's home affairs correspondent Tom Symonds, at the Old Bailey, said it was "another extraordinary revelation from this extraordinary trial".
'Tough time'
Princess Diana, who separated from Prince Charles in 1992 after 11 years of marriage, sent the book to the newspaper and it "worked its way into my pigeonhole", Mr Goodman told the court.
"She was at the time going through a very, very tough time," he said.
"She told me she wanted me to see this book, she wanted me to see the scale of her husband's staff and household, compared to the scale of hers.
"She was in a very bitter situation with the Prince of Wales at the time, she felt she was being swamped by the people close to him.
"She was looking for an ally and to take him on to show the kind of forces that were ranged against her."
Mr Goodman said the princess later called him to check he had received it.
Princess Diana and Prince Charles divorced in 1996. She was killed in a car crash in Paris a year later.
The book was one of a number that "came to me over a number of years", said Mr Goodman, who denies conspiracy to commit misconduct in a public office.
He said "not one of them" had come from a public official.
Mr Goodman told the court a senior valet to Prince Charles, Kenneth Stronach, provided him with two telephone directories, or "green books".
Asked if he paid for these books, Mr Goodman responded: "No."
Mr Goodman, 56, of Addlestone in Surrey, said he used green books and internal telephone directories (ITDs), containing contact numbers for royal staff and senior members of the household, for stories.
He said the information was largely in the public domain - but the books and ITDs collated it.
Mr Goodman gave examples of how he used the numbers, including one in which he recalled how he contacted a source on the night of Princess Diana's death after the royal press office "was frankly useless".
'Aggressive and combative'
The jury has previously been told of Mr Goodman's 2007 conviction for phone hacking.
Asked by his barrister David Spens QC if he ever used information in a green book for hacking purposes, he responded "No."
The court also heard News International, the owner of the Sunday tabloid paper, paid Mr Goodman £140,000 - the equivalent of a year-and-a-half's salary - in 2007.
Mr Goodman, who was made royal editor in 2000, earlier described the culture at the NoW as "quite bullying and menacing", and said it was "extraordinarily competitive".
He told the Old Bailey his position was "downgraded" from 2003 because of his poor relationship with several key desk editors, some of whom cannot be named for legal reasons.
He said one, deputy editor Neil Wallis, was aggressive and "didn't like me".
Mr Wallis, he said, influenced the then editor Andy Coulson, and as a result: "[Mr Coulson] became more aggressive, more combative and more bullying."
'Worried for you'
Earlier, the court heard from the mother of former NoW editor and ex-NI chief executive, Rebekah Brooks.
Deborah Weir told the court her daughter Mrs Brooks urged her not to watch the news as it emerged that murdered schoolgirl Milly Dowler's phone had been hacked.
In one of a series of text messages sent by Mrs Weir to her daughter, she said: "I'm so worried for you."
Mrs Brooks, who is among the seven defendants on trial, denies conspiracy to hack phones, conspiracy to commit misconduct in public office, and two counts of conspiring to pervert the course of justice.
The trial continues.