Successor submarine shipyard gets £300m investment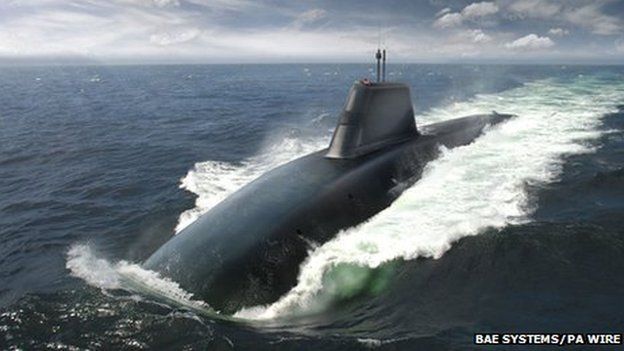 More than £300m is to be invested in BAE Systems' submarine shipyard in Barrow, Cumbria, the Ministry of Defence (MoD) has announced.
The redevelopment paves the way for the Successor submarine project, which could replace the UK's Trident nuclear deterrent system.
The Successor vessels are due to replace the Vanguard fleet, which currently carry the missiles.
The move is expected to create hundreds of new jobs at the site.
A final decision on how to replace Trident has been delayed until after the next general election.
The Conservatives have committed to replacing Trident in its current form, while their coalition partners the Liberal Democrats say a scaled-back option should be considered.
The government has spent £730m assessing the Successor programme since 2011, including contracts worth a total of £350m for BAE Systems, Rolls-Royce and Babcock to design the submarine.
In December, contracts worth £47m and £32m were awarded to BAE Systems in Barrow, where the Successor vessels, due to come into use from 2028, are being designed.
Defence Secretary Philip Hammond said: "The next generation nuclear-deterrent submarines that will be built in Barrow will be the largest and most advanced submarines ever operated by the Royal Navy.
"The £300m of infrastructure work that will take place over the coming years will not only protect 6,000 highly skilled jobs at the site, but also provide hundreds of additional construction jobs."
The eight-year redevelopment programme for the Barrow yard, funded by the MoD, will lead to the employment of 850 contractors, BAE Systems said.
It includes upgrading the existing infrastructure and building a new 28,000 sq m storage unit for submarine parts on the site.
The existing Devonshire Dock Hall facility will also be extended.
BAE expects to start building the first Successor submarine in September 2016.
Tony Johns, managing director of the submarine division of BAE Systems maritime, said: "The Successor programme, to replace the Vanguard Class submarines, remains subject to final approval in 2016, but it is vital we begin these improvements now in order to achieve the government's target of having the first submarine in service by 2028."
Cumbria County Council said the announcement would "cement" the company's expansion at Ramsden Business Park.
Council leader Stewart Young said: "This massive investment in the Barrow site is great news for the whole town."
He added it sent a "clear message that Barrow is laying the ground to be the UK's main hub for the new generation of nuclear submarines for decades to come."