David Cameron leads tributes to 'magnificent' Tony Benn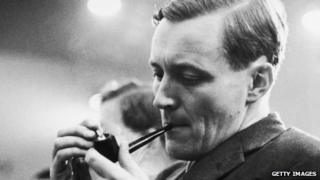 Prime Minister David Cameron has led tributes to Labour veteran Tony Benn, who has died aged 88.
He said on Twitter: "Tony Benn was a magnificent writer, speaker and campaigner. There was never a dull moment listening to him, even if you disagreed with him."
Labour leader Ed Miliband described Mr Benn as an "iconic figure of our time" and a "champion of the powerless".
"Tony Benn spoke his mind and spoke up for his values," Mr Miliband said.
Mr Miliband, who visited the Labour stalwart in hospital recently, said he "may have been ailing in body, but was as sharp as ever in mind".
'Incredibly kind'
He said the left-wing campaigner had garnered respect across the political spectrum and people knew where he stood and what he stood for.
"This was because of his unshakeable beliefs and his abiding determination that power and the powerful should be held to account," Mr Miliband said.
"He believed in movements and mobilised people behind him for the causes he cared about, often unfashionable ones. In a world of politics that is often too small, he thought big about our country and our world."
The Labour leader said he did work experience with the "incredibly kind" Mr Benn when he was 16, and the veteran politician treated him like an equal.
Mr Miliband added: "As he said of his wife Caroline at her funeral, he showed us how to live and how to die.
"All of my condolences go to his children Stephen, Hilary, Melissa and Joshua and his wider family. In their own ways, they are all a tribute to him as a father, a socialist, and a most decent human being."
'A big beast'
Labour MPs also took to Twitter to pay their warm respects.
Former cabinet minister Peter Hain called the anti-war campaigner a "giant of socialism".
He said he was a "wonderful inspirational speaker and person", who encouraged him to join Labour in 1977.
Barry Sheerman, who served alongside Mr Benn for many years, said: "I had my differences with him but he was a 'big beast' in our political life and party history."
Diane Abbott paid tribute to the popular public speaker's "unwavering principles". She said he was "always open to new ideas" and "unfailingly courteous".
'Radical hero'
Dennis Skinner, who knew Mr Benn for more than 40 years, said he was "one of the greatest assets" that Labour ever had.
"He was a campaigner and a teacher," he said. "His whole idea was about trying to influence people, not just in Parliament but outside too."
Former Foreign Secretary Dame Margaret Beckett praised Mr Benn's clarity of expression". She said he opened people's eyes and "made them think".
The Labour MP told BBC Radio 4's Today programme that her former party colleague was fantastic to work for, open-minded and always interested in new ideas.
"He made enemies and kept enemies but on the whole I think most people regarded him with a good degree of affection, long before he got sufficiently old, as he said himself, he can't do any more harm," Dame Margaret said.
'Towering figure'
Deputy Prime Minister Nick Clegg described Mr Benn as a "towering figure in British politics and a fervent defender of what he believed".
Commons Speaker John Bercow said Mr Benn would be "sorely missed", praising him as a man "of deep socialist principle, obvious humanity and great personal warmth".
"A brilliant Parliamentarian, he penned amongst the most memorable political diaries."
Conservative MPs also paid their respects to the Labour man, whom they admired despite their differing politics.
Treasury Minister Sajid Javid said that as a young boy he had looked up to Mr Benn.
"Very sad to hear he has passed away. A man of principle and compassion," he said.
Cabinet Office Minister Francis Maude said Mr Benn had been elected to Parliament in the same year as his father Angus.
"He was extraordinarily articulate which you kind of knew was wrong but you couldn't kind of fault the logic in it," he told the BBC.
"There is no point in being in this business unless you try to give effect to what you believe and you say what you believe."