Clifford 'exposed himself to model in his office'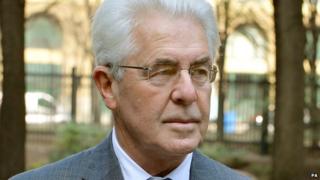 Max Clifford exposed himself to a teenage model and told her his penis was tiny, his trial has heard.
The woman, who was 19 at the time of the alleged incident 35 years ago, told Southwark Crown Court the publicist also posed as an Italian film director on the phone.
Mr Clifford, 70, from Hersham, Surrey, faces 11 counts of indecent assault relating to seven alleged victims, aged from 14 to 19, between 1966 and 1984.
The publicist denies all the charges.
The former model, who cannot be identified for legal reasons, said she was at Mr Clifford's office in London to discuss a possible film role.
He exposed himself on two separate occasions, she told the court.
At the first meeting, she said he "took out his penis" and held it before criticising its size.
She said he described it as "useless" and asked her: "How can I satisfy a woman with this?"
The woman, who is not connected to any of the 11 indecent assault charges against Mr Clifford, told jurors she was "embarrassed" by the incident and left the office shortly afterwards.
She told jurors that Mr Clifford exposed himself a second time, after she was encouraged to return to his office.
She said a man with an Italian accent had phoned her after the initial incident to go back for discussions about the possible film role.
'Fake Italian accent'
The caller was posing as the director or producer of the film, she said.
During another phone call, the man talked about Mr Clifford's penis and asked her to do the same, which she declined.
The former model told the court she realised the caller with the accent was the defendant.
"It was actually Max Clifford - I heard his voice through the accent and said 'That's you, isn't it, Max?" she told jurors.
Realising the Italian accent was false, that it was Clifford himself and that there was no film, she hung up.
Asked why she did not walk out of Mr Clifford's office when he exposed himself, the former model said in those days she "didn't stand up for myself".
"Also ... back in those times, as a woman, you kind of accepted that sort of behaviour a bit more than you should have," she added.
Defence barrister Richard Horwell QC told the woman that she could not have seen Mr Clifford's penis because she described it as "tiny".
"His is an average-sized penis," he said. "That shows you cannot have seen it."
The witness replied that she had seen it and that "I did notice that it was small".