Euromillions jackpot of £107.9m claimed by UK ticket-holder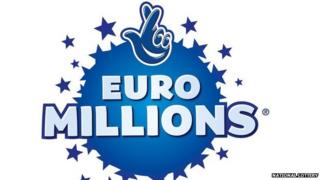 A UK ticket-holder has come forward to claim the £107.9m Euromillions jackpot - the UK's fourth biggest win in National Lottery history.
The winning numbers in Friday evening's draw were 6, 24, 25, 27 and 30, with the lucky star numbers 5 and 9.
Lottery operator Camelot confirmed it has had a claim staked for the jackpot prize, though no further details about the winner or winners were released.
Subject to validation, the prize could be paid out when banks open on Monday.
The ticket-holder can then decide whether or not to go public and share the news.
There will be no information released on whether the winning ticket belonged to an individual player or a syndicate, or where exactly the ticket was purchased, unless the ticket-holder decides to go public.
'Delighted'
A National Lottery spokesman said: "We're delighted Friday's ticket-holder has come forward to claim this amazing prize.
"This massive win ranks fourth biggest on the National Lottery Rich list and is the first EuroMillions jackpot to be won here in the UK so far this year."
British winners have claimed more than £4bn in prizes since Euromillions draws began in 2004.
The largest Euromillions jackpot claimed to date was won by Colin and Christine Weir, of Largs in Scotland.
The couple won £161m in July 2011, and have since set up the Weir Charitable Trust to improve quality of life in Scotland.
The second largest sum - £148m - went to Adrian and Gillian Bayford, from Haverhill, Suffolk, in August 2012.
The third biggest jackpot of £113m, in October 2010, was claimed by a winner who decided to remain anonymous.
Based on the Sunday Times Rich List for 2013, the £107.9m ($179m) jackpot winner would be the 745th richest person in the UK, with a fortune that would narrowly outrank that of pop stars George Michael and Robbie Williams. The newspaper estimates the two singers have a wealth of £105m each.