Vince Cable says 'no-one needs to earn £1m a year'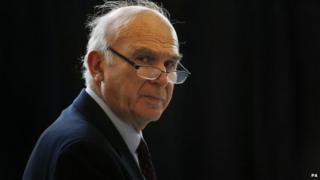 Business Secretary Vince Cable has said he does not understand why people need to earn £1m per year.
"I've asked one or two of the more sympathetic bankers to explain it to me," the Liberal Democrat said in an interview with the Observer magazine.
He said their response was "because others get it so I should, too". That was a "ludicrous mindset," he said.
The British Bankers Association said banking was "very successful" in the UK and bankers were paid a market rate.
'No fear'
In an interview for the magazine's This Much I know Feature, Mr Cable, 70, also reflected on how he thought the coalition government would be seen in future.
"I think history will judge the coalition far more favourably than our contemporaries have done," he said.
"I don't fear for the future of the Liberal Party. In 20 years' time [the coalition] will be judged as a very necessary government."
He said he considered himself a "radical", but added: "Though obviously since being in government I have become much more enslaved these days."
Mr Cable, who became an MP aged 55, also said his late father would have been "over the moon" if he had known his son would end up in a government with the Conservatives.
'Offensive'
On millionaire bankers, he said: "I don't understand why people need a million quid a year.
"I've asked one or two of the more sympathetic bankers to explain it to me.
"The response has been: 'It's not that I need the money, it is because others get it so I should, too'.
"That is a ludicrous mindset. What on earth do these people think they are doing?"
It is not the first time the business secretary has criticised high bankers' bonuses, having previously described them as "offensive".
He said last month he thought the public would find it hard to understand how Royal Bank of Scotland could pay bonuses of £576m for staff when it had made an £8.2bn pre-tax loss for 2013.
A spokesman from the British Bankers Association said: "Bankers are paid a market rate which all banks have to pay.
"If the UK banks aren't paying that, then other countries will.
"Banking is very successful in this country and the taxes raise pay for things such as schools and hospitals."
He added that although it was important to recognise that mistakes had been made, it was important to not drive banks out of the country.