Max Clifford 'forced himself on receptionist'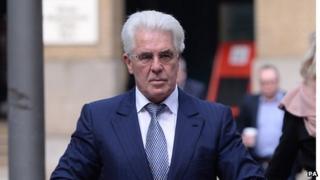 Celebrity publicist Max Clifford pinned a receptionist against a wall and tried to grope her, a court has heard.
The woman, who cannot be named, said she was working in an office where the celebrity publicist was based when the incident allegedly happened in 1975.
She told Southwark Crown Court in London she was 18 at the time.
Mr Clifford, 70, from Hersham, Surrey, denies 11 counts of indecent assault relating to seven alleged victims, aged from 14 to 19, between 1966 and 1984.
On Monday, the court heard details of alleged attacks the prosecution say Mr Clifford carried out.
'Not lying'
The woman said she had worked in an office near Mr Clifford's, and used to show people to his workplace and put calls through to him.
She went to collect any mail or cups from Mr Clifford's office one evening before going home, she told the court.
The woman said: "As I was walking down the corridor, he came out of his office, walked a couple of steps, and then suddenly veered towards me, quite quickly, pushed me up against the wall, and sort of pinned me there, with his body."
She continued: "He had one hand on the wall, and the other started moving up my side, and started to touch me. I made an effort to wriggle and turn and I went under his arm, which was up against the wall, and I walked off and back to my office."
Asked by defence barrister Richard Horwell QC why she had not told anyone about the alleged incident at the time, she said: "I didn't want any fuss. I was very young. I felt intimidated and I didn't want anything horrible to happen."
Mr Horwell said the man she was working for in 1975 did not share offices with Mr Clifford, to which the woman replied: "I am not lying."
When he suggested that the alleged incident never happened, she said: "I'd have to be completely mad, wouldn't I? I'm not mad, and it did happen."
'American accent'
Another woman told how Mr Clifford allegedly coerced her into performing a sex act on him in his office.
The woman, who is not one of the alleged victims in the case, said she had a friend who worked for Mr Clifford as a receptionist at the time in 1982.
She had been to his offices about five times and one particular lunchtime he called her into his personal office, she said.
"He said an actress in Dynasty had had an accident when she was on holiday, riding a horse on a beach, and had broken her arm. They were filming over here, and he said he thought I would make a really good Fallon.
"I knew that it was true - I had seen it on the news or read it in the newspapers. I remember saying that it was madness, and that I was not an actress, and had no acting experience, so it seemed ludicrous."
Mr Clifford said he would get Dynasty director Aaron Spelling to give her a call about it, she told the court.
She said she had later received a call from someone with a camp American accent who identified himself as Mr Spelling.
She said he told her he was sure Mr Clifford was attracted to him, but that Mr Clifford had a hang-up about the size of his penis, and that was why Mr Clifford would not have a relationship with him.
The woman, who suspected it was Mr Clifford speaking, said she told "Mr Spelling" that she could not go into Mr Clifford's office and ask him to take his trousers down.
The witness said Mr Clifford's penis was "freakishly small".
Last week, Mr Horwell told the court Mr Clifford had "an average-sized penis".
'Young and naive'
Another woman who said she was Mr Clifford's receptionist in 1982 told the court the publicist would call women pretending to be director Michael Winner and suggesting that he wanted to "play a trick" on "Max Clifford" by having the women go to Mr Clifford's office wearing no underwear.
The woman, who was 18 at the time, said Mr Clifford asked her to perform a sex act on him on several occasions, which she did. She said she "didn't feel she could" say anything about it.
She said she told no one about the alleged abuse until 2012. "I felt such shame and embarrassment - I couldn't," she said.
Mr Clifford fondled her and she did not tell him that he could not do so, she added.
"I was so young and naive, I didn't know that I could," she told the court.
Her allegations are not among the indecent assault charges against Mr Clifford but she has been called as a witness in support of those allegations.
She said Mr Clifford had offered to help her meet singer David Bowie if she performed a sex act on him.
She refused, she said, adding: "And I didn't meet David Bowie."
Mr Horwell, prosecuting, said that, as she had worked there for 13 months, it could not have been correct that she found the whole experience an unpleasant one.
But she replied: "I had a job - I didn't have another job to go to.
"I was so young. I didn't know about looking for another job."
The case was adjourned until Tuesday.