Max Clifford 'attacked dancer in nightclub toilet'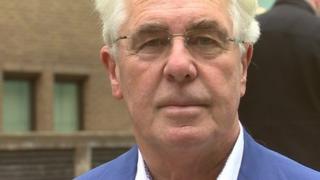 Max Clifford told a dancer nobody would believe her story after he forced her to perform a sex act on him in a nightclub toilet, a court has heard.
The woman told Southwark Crown Court she was about 18 at the time.
The celebrity publicist had told her she would be "great" to play a Bond girl before assaulting her, she said.
Mr Clifford, 70, from Hersham, Surrey, denies 11 counts of indecent assault relating to seven alleged victims, aged from 14 to 19, between 1966 and 1984.
The woman, who cannot be named for legal reasons, said she had met Mr Clifford after taking part in a dance audition at a London nightclub.
Woman felt 'stuck'
Mr Clifford had said he was acting for James Bond producer Cubby Broccoli who he said was doing screen-testing for the film Octopussy, the woman told the London court.
He told her she would be good for a part and offered to put her in touch with Mr Broccoli, the court heard.
The woman broke down in tears as she recalled a telephone conversation with a man Mr Clifford then claimed was Mr Broccoli.
There had been sexual references in the call - which took place in a public phone box outside the club - and she felt she was "stuck" with Mr Clifford, she said.
After the call, Mr Clifford took her to the male toilets and pushed her into a cubicle, where he forced her to perform a sex act, the woman added.
She told the court: "He said something very cocky like, no-one is going to believe me, or 'who's going to believe that?'"
She said she had not told the police because she feared nobody would believe her, but she had broken her silence at a dinner party after seeing reports of the late DJ Jimmy Savile's abuse.
Bowie meeting
Another witness, who is not a complainant in the case, told the court Mr Clifford had tried to expose himself to her during a photo-shoot and had encouraged her to sleep with influential people to further her career.
The woman, who also cannot be named, told the court Mr Clifford had claimed to have set up a dinner with actor David Bowie over a part in the film Labyrinth.
She did not turn up to the meal and said she was ill, she added.
The trial continues.