Bail hope for former British servicemen held in India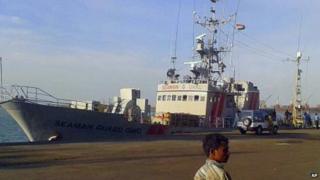 The partner of a former British serviceman detained in India says she is "hopeful" he will be released soon.
Yvonne MacHugh's partner Billy Irving was working on a private US-owned anti-piracy support vessel when he was arrested with five others for illegally possessing weapons.
They have been in jail since October, with a decision on their bail deferred.
Ms MacHugh said lawyers believed this would be resolved next week, after a hearing on Wednesday "went well".
Bail decision
Mr Irving, from Connel, Argyll; Nick Dunn, from Ashington, Northumberland; Ray Tindall from Chester; Paul Towers from Pocklington, Yorkshire; John Armstrong from Wigton, Cumbria, and Nicholas Simpson, from Catterick, North Yorkshire, were arrested on 12 October and have been in prison in India since 24 October.
The US maritime company they were working for, AdvanFort, insists their ship had the correct papers.
Authorities in India have repeatedly postponed a decision on their bail.
Relatives of the men delivered a petition to Downing Street this week, with more than 136,000 signatures calling for the men's release.
It also calls on the government to act as a guarantor for the men if they are bailed.
Ms MacHugh said the response to their case had been "overwhelming".
In a letter, Mr Irving had told her he was "frustrated" and "just wants to get out", she added.
The 35-member crew also included Indians, Ukrainians and Estonians.
The men had been providing anti-piracy protection in the Indian Ocean when their ship, the MV Seaman Guard Ohio, was detained.
The Indian authorities said they had intercepted the US ship and found weapons and ammunition on board which had not been properly declared.
AdvanFort said India's coastguard and police had allowed the ship into the port to refuel and shelter from a storm. It said all weapons had been properly registered.