UK sends Royal Navy ship to join search for missing plane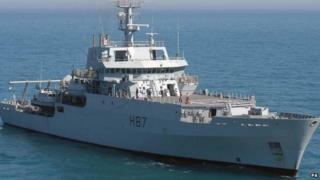 The UK is to send a Royal Navy coastal survey ship to join the search for the missing Malaysia Airlines plane.
HMS Echo, currently in the Indian Ocean, will make its way to an area 2,500km (1,550 miles) from Perth.
Planes and ships from Australia, New Zealand and the US have already been deployed to investigate two objects seen on satellite images that could be linked to the missing aircraft.
The largest section of debris appears to be about 24m long.
Australian authorities have warned the objects could have nothing to do with the plane.
But, speaking at a news conference on Thursday, Malaysian Transport Minister Hishammuddin Hussein described the possible sighting as a "credible lead".
Malaysia Airlines flight MH370 was flying from Kuala Lumpur to Beijing on 8 March when it lost contact with air traffic controllers. It had 239 people on board.
Twenty-six nations have been involved in a major search operation.
HMS Echo, which was designed to carry out survey work, is among the latest vessels to join the effort.
Launched in 2002, the ship is currently working on seafarers' charts for the UK Hydrographic Office.
The 18-month deployment has taken it to the Mediterranean, the Gulf and the Indian Ocean. It is in the southern part of the Indian Ocean where the objects were sighted.
The vessel is expected to take several days to reach the search area.
A Downing Street spokesman said: "The exact role [HMS Echo] will play will depend on the status and the nature of the investigation by the time it arrives in that area.
"We stay in close touch with the Malaysian authorities and if there's more to do that the British government can do then we will, of course, look upon that very constructively."
Malaysian authorities have said they believe the plane was intentionally diverted.
Investigators have been looking into the backgrounds of the crew and passengers, but no evidence of terror or other potentially relevant links have been identified.