Has there been a Romanian and Bulgarian influx to the UK?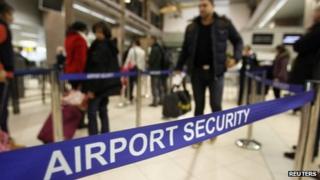 It is nearly three months since restrictions were eased on Romanian and Bulgarian migrants. So, how many have actually come?
The first official statistics will not be available until May but anecdotal reports from councils and community leaders suggest there has not so far been a big influx.
Nicolae Ratiu, who heads a foundation supporting the Romanian community, says: "There has not been a massive wave. A lot of the people who wanted to be here were already here.
"Now they are registering for work and that is entirely legal."
Many low skilled Romanians head straight for Cricklewood in north-west London, where there is an established population.
Destitution
But some arrive with no money and nowhere to stay. Homelessness has been a stubborn problem.
At dawn I joined police and outreach workers looking for some of the migrants who have disappeared into London's underworld. At the Brent Cross flyover in north London we were taken to some disused maintenance sheds.
Inside there was a shocking picture of destitution. The migrants had just slipped away. But the stench of dirty sheets and rotting rubbish was overpowering.
Police who had been there before said that on their previous visit rats were running freely over the sleeping areas. There certainly appeared to be signs of rodent infestation under one of the mattresses.
How desperate would you have to be to think this filthy squat was your best option?
Stefan Lazar knows the answer better than most. He was sleeping in a garage until recently.
But he has now found a more secure shelter. With some help, he has also obtained the most vital thing of all - a national insurance number to work legally.
"For me, England is very beautiful," he told me. "For me I don't have another chance. This is my chance."
But Moise Lapadat, another man who has been sleeping rough, has already had enough.
"I wouldn't encourage others to come," he said.
"It could be beautiful here. But if you've got nowhere to sleep and no work, it's no good."
Pride
Homeless Romanians come to a community project called Ashford Place in Cricklewood. They are given shelter, food, and help registering with a GP and finding work.
Those running the centre say there has not been a sudden new surge of migrants since January. And they strongly reject the idea that Romanians have come to live on welfare.
"If nothing else it's about pride," said Lucien Lawrence, an outreach worker.
"These people aren't content to come over and exist on benefits. I've never met a group of people more offended by the idea of benefits."
Some Romanians have had success in the UK already this year. Community leaders say many doctors, nurses and IT workers have arrived and found jobs quickly.
Romanian building and construction businesses are already well established in London.
Violeta Patrascu is one of the highly educated and qualified migrants. Last week she was delivering pizza. Then she landed a job as a driving instructor.
The next step, she hopes, is to set up her own business as a lifestyle coach and motivational speaker.
"I find more opportunities here for my development, and for my family's development," she said.
"That's why I came to London. I came to work."
But community leaders accept that homelessness and the perception of criminality affected the impression many have of Romanians in the UK.
They say there is more to be done to convince the public, the media and some politicians that new migrants are here to make a positive contribution.