Doctors outraged at latest NHS pay restraint, BMA says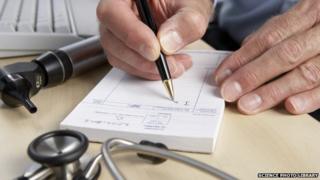 Doctors feel a "deep sense of outrage" at the failure to grant them a 1% increase in basic pay, the head of the British Medical Association has said.
In a letter to Health Secretary Jeremy Hunt, Dr Mark Porter urged the government to reconsider the decision.
Many NHS staff in England will get a 1% rise, but those receiving "progression-in-job" increases, "typically worth over 3%", will not get the 1% as well.
The government said a 1% across-the-board rise would cost jobs.
The Consumer Prices Index (CPI) measure of inflation is currently at 2%, and the NHS pay review body had recommended that all NHS staff should get a 1% pay rise - whether they were also entitled to progression pay increases or not.
'Misplaced'
In the letter, Dr Porter said it was "frustrating" that Mr Hunt had chosen to ignore that recommendation.
"Your deliberate conflation of pay progression and cost-of-living uplift is particularly misplaced," he wrote.
"Leaving aside the fact that a 1% uplift would in no way keep pace with the increases in the cost of living, incremental pay progression is designed to address a very different set of issues.
"Pay progression is required to recognise learning and development in a role.
"Doctors gain more experience and responsibility over time and incremental progression arrangements for consultants, in particular, is a measure to control costs, building in a series of extended periods before they reach the full rate for the job."
The Unite union said last week that the pay decision was "the straw that breaks the camel's back" and its members now wanted to consider industrial action.
Unison's national officer Christina McAnea said the government had shown "complete contempt" for NHS staff, who were "on average, 10% worse off than when the coalition came to power".
But a Department of Health spokesman said implementing the review body recommendation would cost £450m.
"That's the equivalent of 14,000 new nurses, and would put at risk the safe, compassionate care that we are committed to.
"The health secretary has made it clear that his door is open to agree alternative proposals on pay providing we can continue to protect the front line."
The Scottish government has said it will adopt the NHS pay review body's recommendations in full, meaning that all NHS staff in Scotland will receive the 1% pay rise.