Police investigate alleged rape of Briton in Egypt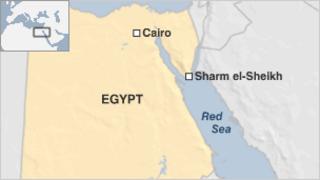 Police have confirmed they are assisting an investigation into the alleged rape of a British woman in a luxury hotel in Egypt.
The woman, in her 40s, has reported that she was sexually assaulted by a guard who had escorted her to her room at the hotel in Sharm-el-Sheikh.
Hampshire Police said the alleged assault occurred on 6 March.
The Foreign and Commonwealth Office (FCO) said it was aware of the incident and providing consular assistance.
A Hampshire Police spokeswoman said: "Officers from Hampshire Constabulary's specialist interview team are currently assisting with an investigation into a serious sexual assault of an English woman which is reported to have occurred in the Sharm-el-Sheikh region of Egypt on 6 March."
The FCO website warns travellers of a rise in such attacks in the country.
It states: "Reports of cases of sexual assault against British nationals have increased during and since the unrest of early 2011.
"In 2012, the FCO handled 23 cases of sexual assault and six cases of rape. Some assaults were against minors. Many occurred in what were considered to be safe places such as hotels."