Woman 'kicked Max Clifford hard between legs'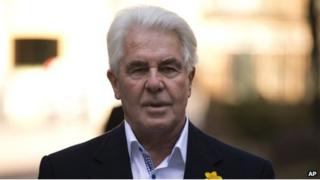 A woman who was an extra in the James Bond film Octopussy has told a court she kicked Max Clifford "between the legs really hard" after he pushed her on to a sofa and tried to kiss her.
She said the publicist gave her money to buy lingerie, and took pictures of her wearing it, before telling her she had a role in a Charles Bronson film.
He then put his hands "all over" her, she told Southwark Crown Court.
Mr Clifford denies 11 counts of indecent assault.
The woman, who cannot be named for legal reasons, told the court the incident happened in the early 1980s.
She said she had changed into the underwear Mr Clifford had told her to buy and he took photos of her in his London office.
But she said she realised "things weren't right at all" when she saw he was not using a professional camera.
She said he had asked her to sit with her legs apart, and she had become frightened and refused.
'No film role'
She said she had got dressed and Mr Clifford emerged from his office with a phone, saying Charles Bronson was on the line and had agreed to give her the film role.
She spoke to the man on the phone, who had an American accent and said she had the part.
After that phone conversation she said Max Clifford had lunged at her, pushing her on to a sofa and trying to kiss and fondle her.
"I got very frightened," she said, adding that she "kicked him between the legs really hard" before running away.
She told the court that she had never spoken to "the real Charles Bronson", and there had been no more communication about the film.
She was later an extra in the film Octopussy, she said.
The court heard that while working on the film she had told several people about her experience, including Barbara Broccoli, daughter of the Bond franchise producer Cubby Broccoli.
Ms Broccoli - now responsible for the film franchise - also gave evidence in court.
She said her casting director on Octopussy did have contact with Mr Clifford about the film, but that she had, Ms Broccoli believed, "never met him".
The trial has previously heard that Mr Clifford claimed to represent Mr Broccoli, and that he had told one alleged victim she would have to sleep with the producer to be in one of his films.
Giving evidence on Monday, Ms Broccoli said she did not believe that Mr Clifford knew her father.
"As far as I know he did not know him," she told the jury.
Mr Clifford, 70, from Hersham, Surrey, denies 11 counts of indecent assault - relating to seven alleged victims aged from 14 to 19 - between 1966 and 1984.
The trial continues.