One in 10 children in UK neglected, Action for Children study shows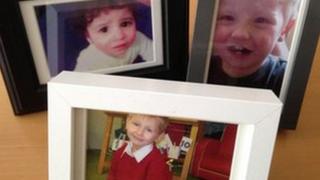 One in 10 children in the UK is a victim of neglect, according to the research commissioned by the charity Action for Children.
This suggests they may not be properly fed or clothed, or are absent from school. The charity says there is no clear strategy to deal with neglect.
It based its report on conversations with more than 18,000 people, including 4,000 children age 8-16.
The government says it is determined to tackle the issue.
Action for Children says child neglect is an ongoing failure to provide the right care and attention to a child's needs, ranging from obvious physical signs such as being severely under or over weight to being ignored when distressed.
For some, child neglect can result in death, either through starvation or due to accidents because of a lack of supervision.
The study shows 73% of children in the UK know a child who is suffering neglect.
The problem features in 60% of serious case reviews into the death or serious injury of a child and 32% of professionals felt powerless to help affected children.
Neglect is also the most frequent reason for a child protection referral to social services.
Completely disregarded
Sir Tony Hawkhead, chief executive of Action for Children, said: "Evidence points to an average of more than one child on every street in the country who is suffering from some form of neglect.
"They are ignored by their parents, left on their own or completely disregarded by the people who are supposed to love them unconditionally."
Sir Tony added: "Our research shows that children as young as eight can see it, so why can't the Government do more?"
The charity is calling for a new strategy to tackle the problem.
It would include a web portal where people can report concerns about children, and systems allowing accurate birth data to be collected, so individual children can be effectively monitored.
Swift action
A Department for Education spokesperson said the report highlights the devastating consequences neglect can have on vulnerable children.
"We've been clear that anyone working with children should take swift action when alerted to the early signs of abuse and neglect.
"We're already on track to deliver on a number of the report's key recommendations, such as overhauling the training and education for social workers."