How Abu Hamza came to court in New York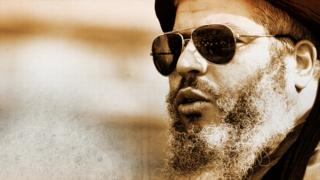 Abu Hamza stands trial in New York on 14 April accused of conspiring to set up a terrorist training camp in Oregon and helping abduct two American tourists and 14 other people in Yemen in 1998.
The US first requested Hamza's extradition from the UK in 2004, and it was granted by the home secretary in 2008. After a series of appeals, the High Court ruled in 2012 that extradition could proceed immediately.
Who is Abu Hamza and why did it take so long for him to stand trial? Delve deeper into this story with video from the BBC vaults.
January 2003 - Finsbury Park
Abu Hamza comes to public attention as a preacher at Finsbury Park mosque. In 2003, police raid the mosque as part of a counter-terrorism operation, seizing replica guns and CS gas canisters, and arresting seven people.
In 2002, the Charity Commission tries to suspend Hamza from his post at the mosque over some of his inflammatory speeches. The commission claims he is using the mosque, a registered charity, to spread his brand of radical Islam.
Even after police temporarily close the mosque in 2003, Hamza continues to lead prayers on the streets outside.
May 2004 - Extradition proceedings
The US government launches extradition proceedings against Abu Hamza. He is facing 11 terror-related charges including hostage-taking and supporting al-Qaeda.
He is accused of acting as a go-between for a terrorist group which took 16 tourists hostage in the Yemen in 1998. Three Britons and an Australian were killed in a rescue attempt. An American woman was shot but lived. The kidnapping was to win the release of Hamza's stepson and five others.
The cleric is also accused of attempting to set up a terror training camp in Bly, Oregon, to prepare fighters to fight in Afghanistan.
February 2006 - Jailed
The extradition is halted after Abu Hamza is charged in the UK with inciting murder and race hate over his speeches and jailed for seven years.
Hamza is found guilty of these charges, and of having audio and videotapes intended to encourage racial hatred and having a document for terror purposes, by an Old Bailey jury.
His conviction means extradition will not go ahead until after he has served his sentence.
May 2007 - Fight continues
Extradition proceedings resume against Abu Hamza in London. The US government argues that the cleric is a member of a global conspiracy to wage jihad against the US and other Western countries.
Hamza's barrister argues that some of the evidence against his client was obtained by torture and so the application should fail.
The extradition hearing goes ahead after the House of Lords refuses the cleric leave to appeal against his UK convictions, which would have delayed the proceedings even further. Home Secretary Jacqui Smith signs the extradition order in February 2008.
July 2010 - European Court
Abu Hamza appeals to the European Court of Human Rights, which begins considering his case with other men facing extradition to the US on terrorism charges.
In July 2010 the court says it is satisfied the US will treat the men fairly, but that it wants more time to consider the implications of extraditing the men.
Although this verdict represents a partial victory for Hamza, the case does not end there.
September 2012 - Appeal
After considering more evidence about conditions at the Colorado "supermax" jail, the European Court rules that Abu Hamza and four other suspects can face trial in the United States.
The men appeal to the Grand Chamber, but on 24 September 2012 the court's highest judges give their final approval for the extradition of Abu Hamza and four other terrorism suspects to the US. The Home Office says it will ensure the extraditions happen as quickly as possible.
The men all argue they will face inhumane treatment in the US, but the court finds there will be no violation of their human rights.
October 2012 - Extradition
Abu Hamza fails in his last-ditch bid to halt his extradition to the US along with four other terrorist suspects.
Judges at the High Court say there can be no more appeals and the extradition "may proceed immediately", bringing to an end an eight-year legal battle which cost millions of pounds and left politicians seething.
Abu Hamza is to stand trial in New York in April 2014.