Max Clifford 'revolted' by claims of sexual interest in children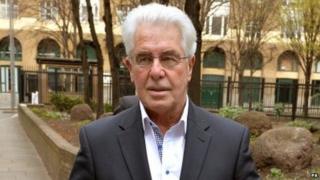 Max Clifford has said allegations he has a sexual interest in children are "utterly revolting, utterly untrue, disgusting lies".
The publicist told his trial he had helped expose convicted paedophiles Gary Glitter and Jonathan King.
He also said he went to sex parties when he was younger, but had never had sex with a woman without her consent.
Mr Clifford denies 11 counts of indecent assault relating to seven alleged victims, aged from 14 to 19.
The alleged incidents are said to have happened between 1966 and 1984.
Mr Clifford, 70, from Hersham, Surrey, is giving evidence for the first time in his trial at Southwark Crown Court.
'Not orgies'
Setting out his case for the defence, barrister Richard Horwell QC cast doubt on evidence given so far, saying "details" had "caught out" the prosecution witnesses.
In particular, he said they had given "contradictory" evidence relating to the size of Mr Clifford's penis.
He said evidence from the seven accusers about its size ranged from "freakishly small" to "enormous" and, as such, none could be relied upon.
"None of these four witnesses is correct," said Mr Horwell. "That's because Mr Clifford has an average-sized penis. That will be his evidence."
Asked about its size, Mr Clifford said it was "average".
Mr Clifford was later questioned about attending "sex parties" in the past.
"There would have been parties from my younger days," he said. "There were not orgies. Not everyone went there and took their clothes off."
Asked by Mr Horwell if he had ever had sex with a woman without her consent, Mr Clifford replied: "No."
And asked if he had ever had a sexual interest in children, he said: "No, no. It is utterly revolting, utterly, utterly disgusting lies."
Elsewhere, the publicist told the court he had had a number of affairs, including one with a woman who worked in his office, with whom he had had a two-year relationship.
He said they had sex in his office "very, very occasionally".
Mr Clifford, who was married at the time, told the court: "I knew what I was doing was morally wrong, but I didn't think I would be found out."
He said he would have married the woman if he had not been married already.
During his evidence, Mr Clifford also denied claims he had impersonated Hollywood directors and producers such as Michael Winner, Cubby Broccoli and Charles Bronson on the phone.
He said he sometimes used fake identities because it was a way of "checking people out and getting to the truth".
But he said he could only do a "gay voice".
Several of his accusers have said they received calls from a man with an effeminate voice urging them to contact Max Clifford.
But he has denied making those calls or using the names given by the male caller to the witnesses.
When questioned about Top of the Pops, the publicist said he had had "open access" to the pop music show for 20 years.
He told the court the 1960s and 1970s were a time of "sexual revolution", adding: "If I really wanted to impress young girls, it would have been easy."
But he insisted his PR business would have been "ruined" if he had a reputation for touching women.
'Repulsive'
Earlier the court heard extracts from police interviews with Mr Clifford when he was first questioned after his arrest in December 2012.
During those interviews when police asked what sort of sexual activity had occurred in Mr Clifford's office, he said: "Slap and tickle, kissing and cuddling, I might have had oral sex occasionally."
He also said he had "never forced" himself on anyone, and was "never into young girls".
The jury also heard that when he was confronted over a claim he had sexually assaulted a 12-year-old girl in a Jacuzzi in Spain - which is not part of this trial as the alleged offence happened abroad - Mr Clifford said: "It's repulsive, it's totally untrue."
The trial continues.