Max Clifford rejects numerous 'revolting' sex claims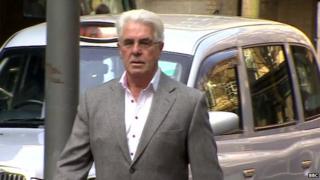 Max Clifford has said claims he sexually assaulted a 12-year-old girl are "filthy and absolutely revolting".
Giving evidence, the publicist denied assaulting the girl in a Jacuzzi in a Spanish holiday resort in 1983.
He also told Southwark Crown Court claims he sexually assaulted a 15-year-old girl in his car were "lies".
Mr Clifford denies 11 counts of indecent assault, relating to seven alleged victims, aged from 14 to 19 between 1966 and 1984.
The claims relating to the 12-year-old are not part of the trial as the alleged incident took place in Spain.
Asked on Thursday whether he had ever had a sexual interest in 12-year-old girls, Mr Clifford replied that "the thought is utterly repulsive and repugnant".
Yellow Jaguar
Mr Clifford had a number of other allegations put to him during his second day of evidence.
Among them was a claim he sexually assaulted a 15-year-old in his car in the 1970s after meeting her in Spain.
Mr Clifford told the jury he had stayed at a hotel in Torremolinos, Spain, a month earlier than the girl and her family, and had no recollection of them.
The alleged victim has said she first met him at the hotel in August 1977.
But Mr Clifford's defence produced newspaper clippings showing the publicist had saved a girl from drowning in the Pontinental Hotel pool in July 1977.
The woman has also claimed Mr Clifford used a yellow Jaguar car to pick her up from her house.
Mr Clifford contested the claim that he had owned the vehicle in 1977, saying the colour did not appeal to him - although he said said it was "possible".
He added the sex assault allegations were "totally and utterly untrue".
'Octopussy claims'
During questioning from his defence barrister, Richard Horwell QC, Mr Clifford denied ever meeting many of the women who had accused him, and dismissed their claims as untrue.
He denied allegations he had indecently assaulted an 18-year-old in a nightclub after suggesting he could get her a part in James Bond film Octopussy.
Mr Clifford said the film had come out two-and-a-half years before the alleged incident.
Another alleged victim has said she was assaulted by Mr Clifford after she had been given a part as an extra in the same film.
Mr Clifford said the only involvement he had had with anyone connected to the film was with a gymnast, whose profile he was helping to promote, and several athletes.
The court has previously heard claims that Mr Clifford offered to get another woman the lead role in TV show Dynasty, before exposing himself to her and forcing her to perform a sex act.
But Mr Clifford told the court the claims were " too ridiculous for words".
'Horrible thing'
Another woman, who is not a complainant, has alleged Mr Clifford exposed himself to her when she went to his office after being promised a part in a film.
Mr Clifford said he had never held castings for films in his office and denied exposing himself there.
In response to a number of other allegations put to him, Mr Clifford:
denied telling a woman he had slept with Diana Ross
denied knowing another woman who has claimed he assaulted her while she worked for him in the 1970s
said another women, who alleges he assaulted her, did work in his office in 1980s, but denied forcing her to perform sex acts on him
denied asking a 16-year-old her to engage in a sex act in the toilet at his office
Mr Clifford also spoke about an anonymous letter he received in 2011, claiming to be from one of his alleged victims.
He said: "I knew it wasn't true but it was a horrible thing to read."
He said his "initial reaction" was the letter was from someone with "mental problems."
The trial continues.