British man dies after Caribbean yacht fire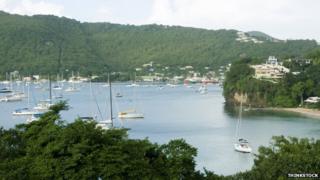 Police in the Caribbean are investigating the death of a British man who was found near a burning yacht.
Police in St Vincent and the Grenadines said John Edward Garner was found on a life raft with leg and head injuries by coastguards investigating reports of a yacht fire off the coast of St Vincent on 26 March.
The 53-year-old died in hospital.
The Foreign Office said it was aware of the death of a British national and was providing consular help to the family.
BBC Caribbean correspondent Nick Davis said police were awaiting the results of the post-mortem examination following Mr Garner's death at Milton Cato Memorial Hospital, in Kingstown.
"According to the detective leading the investigation, John Edward Garner had flown into the island in January along with his Norwegian wife," he said.
"She had left to go back to Norway and he had been getting his boat seaworthy. It had been in the marina for repairs only a few weeks before."
Local media say the burning yacht, called Asante, was found approximately 15 nautical miles off the coast of Buccament Bay, in St Vincent, at about 12:30 local time (16:30 GMT).
Police Inspector Hawkins Nanton said Mr Garner had injuries to his head and both legs, the AP news agency reported.
Diving instructor Kay Wilson, who was first on the scene, said she had spotted a plume of black smoke and had steered her power boat, containing visitors on a diving trip, to the scene to try to help.
When she arrived, the yacht was engulfed by flames and almost underwater, she said, and Mr Garner was spotted floating in the water, wearing a lifejacket.
She said: "We got within about 15-20ft, we could tell that he had injuries but it was not until our diver got in the water and approached him we could see the injuries."
Other boats including the coastguard arrived to help, she said.
A Foreign Office spokesman said: "We are aware of the death of a British national in St Vincent and the Grenadines. We are providing consular assistance to the family at this difficult time."