Clifford: 'Sex claims are from fantasists wanting money'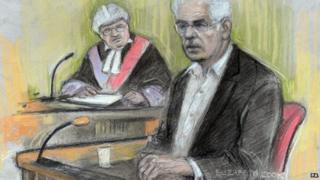 Max Clifford has branded women who have made allegations of sexual or indecent assault against him as "fantasists" seeking compensation.
The publicist told Southwark Crown Court the claims were "a pack of lies".
He said he had "no skeletons" and was not rattled when a woman wrote to confront him about an alleged attack, because he knew "it wasn't true".
The 70-year-old denies 11 counts of indecent assault, relating to seven alleged victims, aged from 14 to 19.
The incidents are said to have happened between 1966 and 1984.
Prosecutors say 45 witnesses have made complaints against Mr Clifford, of Hersham, Surrey.
Under cross-examination in his third day in the witness box, the publicist insisted he did not know the women making allegations and that their claims were "totally untrue".
He said women had often approached him over the years with stories they made up in order to make money.
'False Savile claims'
"When the Savile scandal broke we had dozens of women phoning us with stories about Savile, some of whom were obviously lying, and all of whom wanted money," he told the court.
"It happens, it happens an awful lot."
Prosecuting, Rosina Cottage QC said it was no coincidence that so many different women who did not know each other had made similar allegations against Mr Clifford.
The publicist said: "I can only think it is an opportunity for compensation - to make some money.
"Possibly they are fantasists, possibly they don't like me, they see an opportunity."
Diaries
In other testimony, Mr Clifford denied knowing the whereabouts of his diaries covering key periods in 1977, 1978 and 1986.
He said he had no clue about what happened to the diaries.
He added that he had not thought to look for any diaries when an allegation of indecent assault was first made because he believed the complainant was "mentally disturbed" and he had "no idea" he possessed diaries going back to 1977.
"They had been put in a cupboard by a member of staff and the police were aware of them," Mr Clifford said.
The police earlier testified that they did not find the diaries covering the periods in question.
Mr Clifford said suggestions he had destroyed the diaries were "total lies and rubbish".
"I knew that these allegations were totally untrue, so there was no need for me to check diaries because I knew it was rubbish and nonsense," he said.
The 70-year-old also referred to an anonymous note sent by an alleged victim confronting him about an alleged attack, decades after it was said to have happened.
The note, which was found in his bedside table, had not been "so distressing" to him, he said.
Mr Clifford told the court he had received a lot of "funny" letters - including death threats.
"I wasn't frightened, I thought it was very sad that this person was obviously mentally disturbed," he added.
"It was totally and utterly untrue - very sad, but untrue. It was very horrible and upsetting."
The trial continues.