Phone-hacking trial: Rebekah Brooks was 'relieved' to resign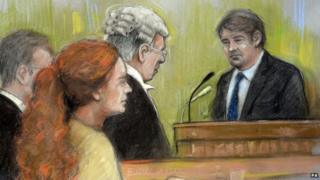 Charlie Brooks has told the phone-hacking trial that his wife, Rebekah, was relieved when she was asked to resign from her position as chief executive of News International.
He said Rupert Murdoch had tried to stop her resigning but the company's then executive chairman, James Murdoch, later decided she should go.
It followed extensive revelations of illegal phone hacking by journalists.
Mr and Mrs Brooks deny the various charges against them.
In testimony at the Old Bailey in London, Mr Brooks described his wife's state of mind, saying she was "pretty wrecked" as allegations of phone-hacking mounted.
He said Rupert Murdoch had contacted him after allegations, in July 2011, that News International journalists had hacked the mobile phone of the murdered schoolgirl Milly Dowler.
Mr Brooks said Mr Murdoch knew that Mrs Brooks was upset and wanted to resign.
"He explicitly told me if she shows any signs she was going to resign, I should ring him in America so he could ring her and stop her resigning," Mr Brooks said.
Mr Brooks said his wife had planned to take a leave of absence from her job but the crisis finally reached the point later in July 2011 where James Murdoch, then the company chairman, decided she should resign.
Mr Brooks said James Murdoch had rung him to ask him to pass on a message to this effect to his wife.
Mr Brooks said that after he did so, Mrs Brooks replied: "Thank god for that. I've been telling them that."
"I think she was quite relieved," Mr Brooks said.
Earlier, Mr Brooks described how he and his wife had cut short a holiday in order to deal with the unfolding crisis at News International, owner of the News of the World and Sun newspapers.
He also said there was a second reason for changing their return date - they had received advice that Mrs Brooks was likely to be arrested when the couple flew in to Heathrow Airport and hoped that an earlier return might prevent any photographers at the airport getting "the killer photograph".
Asked what that was, he replied: "The career-ending photograph - you being led out of your home or led out of Heathrow handcuffed, surrounded by police.
"You are never going to get another job."
Mr Brooks, 51, of Churchill, Oxfordshire is accused of trying to hide potential evidence from police.
He told the jury that laptops he had concealed behind bins in the underground car park at his Chelsea Harbour flat contained drafts and proposals for books he hoped to have published.
"I think it's fair to say there was quite a lot of smut as well," Mr Brooks said, referring to what his wife has called his "rather large porn collection".
Johnny the Fish
Earlier, Mr Brooks prompted laughter in court as he gave details of several failed business ventures including a pub which he had co-owned with "someone called Johnny the Fish".
"After about a year, I worked out why he was called Johnny the Fish," Mr Brooks said.
Mr Brooks denies conspiring to pervert the course of justice.
Mrs Brooks, 45, denies conspiracy to hack phones, conspiracy to commit misconduct in a public office and conspiracy to pervert the course of justice.
The trial continues.