Poet laureate leads protest against prison book rules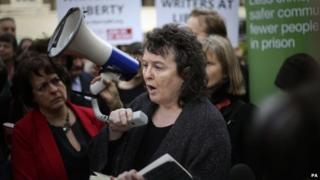 Writers and actors opposed to new rules stopping people sending books to inmates have held a protest outside Pentonville Prison in north London.
Poet laureate Carol Ann Duffy joined demonstrators including actress Vanessa Redgrave and author Kathy Lette.
They say new rules, introduced in England and Wales in November, make books a privilege rather than a staple.
But the government has said prisoners can still use jail libraries or earn money to buy books.
Under the changes, prisoners can no longer be sent small parcels containing items such as books, magazines and underwear.
'Deplorable'
Redgrave described the measures as "vicious" and said literature helped to give people "a goal to live for".
"It is deplorable in terms of the incapacity to think. Prison was meant to be a place where someone could rehabilitate," she said.
Playwright David Hare called for Justice Secretary Chris Grayling to apologise and reverse the policy.
"At this point, the sooner he does it the better because he is going to have to do it, so he might as well do it now and say that a mistake has been made," he said.
Samuel West, who appears in television drama Mr Selfridge, said it was a "misguided and cruel policy which is deeply unpopular".
He added: "I also believe that as a species, language is the greatest thing that we do, so I have to believe in the redemptive power of the written word."
'Criminal' policy
Lette said: "Books are intellectually, psychologically and emotionally nourishing. It is a way to lift yourself up and bring humanity and compassion.
"I think it is criminal of the justice secretary to make books a privilege and not a staple."
Poetry was read during the protest, jointly organised by Duffy and the Howard League for Penal Reform.
Girl with a Pearl Earring author Tracy Chevalier and poet Ruth Padel were among those at the demonstration.
Frances Crook, chief executive of the Howard League for Penal Reform, said: "We are delighted that so many famous authors and other eminent figures in the arts are supporting our campaign to ensure friends and family can send books and other essentials to prisoners behind bars."
Justice Secretary Chris Grayling has said the changes were introduced to encourage good behaviour.
Writing for the politics.co.uk website last week, he stressed that "prisoners' access to reading material is not being curtailed" and that they can have up to 12 books in their cells at any time.