Phone-hacking trial: Charlie Brooks 'mortified' about hiding bags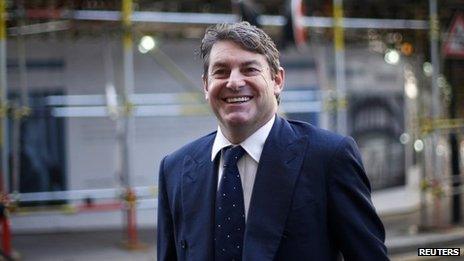 Rebekah Brooks's husband has told a court he is "ashamed" and "mortified" about his bid to hide property from police investigating phone hacking.
Racehorse trainer Charlie Brooks told the Old Bailey his decision to hide laptops and porn DVDs before raids had allowed police to "smear" his wife.
He said officers were investigating Mrs Brooks, former chief executive of News International, for hacking at the time.
Mr Brooks denies a charge of conspiracy to pervert the course of justice.
He is one of seven defendants, including his wife, who deny allegations linked to phone hacking by journalists at the News of the World.
On Monday Mr Brooks said he had hidden an old laptop and some porn DVDs in a jiffy bag behind some bins at the London flat he and his wife shared.
Earlier, he had asked News International Head of Security Mark Hanna too look after more of his possessions, including a further laptop, as they left Oxfordshire to travel down to London. The court heard this was because he expected police raids and did not want them taking the computers, which he said contained material for a novel he was working on.
The court has since heard that a security guard left two bags containing laptops, an iPad and collection of pornographic DVDs behind bins in a car park at the London flat.
Mr Brooks said: "I feel ashamed of what I have done to Mr Hanna, who is an innocent man.
"I feel furious with myself for being so stupid.
"I am mortified by the way I have embarrassed my wife and given the police the ammunition to smear her."
Mr and Mrs Brooks and Mr Hanna deny conspiracy to pervert the course of justice, and Mrs Brooks also denies conspiracy to hack phones and conspiracy to commit misconduct in a public office.