Max Clifford 'had no car' at time of alleged assault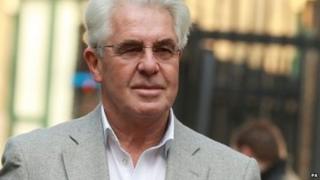 Publicist Max Clifford did not have a car in 1966 at the time he is accused of indecently assaulting a girl in his vehicle, a court has been told.
A woman claims Mr Clifford assaulted her in his car when she was 14.
But his brother Harold "Cliff" Clifford told Southwark Crown Court the 70-year-old, from Hersham, Surrey, did not have a car or driving licence until 1967.
The defendant denies 11 counts of indecent assault relating to seven alleged victims aged 14 to 19.
The incidents are said to have happened between 1966 and 1984.
Another witness for the defence, who cannot be named for legal reasons, told the court that the alleged victim from 1966 had said she wanted to "jump on the bandwagon" when accusations about Mr Clifford first emerged in the media.
The witness said the information had been given to her by the alleged victim's ex-husband, with whom she had been in a relationship.
She acknowledged that she had got in touch with Mr Clifford's legal team after the relationship had come to an acrimonious end.
But the witness told the court she wanted to "tell the truth" because she had felt the alleged victim and her ex-husband were not being truthful.
Earlier in the trial, the alleged victim claimed she thought she was going to be raped in Mr Clifford's car in 1966.
'Nothing happened'
The woman, who also cannot be named, said the publicist had driven down an alleyway after offering her a lift home, then "lunged" at her.
Giving evidence on Tuesday, the defence witness claimed that the alleged victim's ex-husband had told her he had been asked to "corroborate" the story but actually "nothing had happened" that night.
Asked about what he had told her, the witness said: "That when they first married she had told him all about this incident.
"She and a friend were outside a club in London and that Max Clifford had offered them a lift home but that nothing had happened."
A woman who met Mr Clifford during a family holiday in Torremolinos, Spain in 1977 was also called as a witness.
She told the court she was "shocked" when she heard allegations against the publicist, whom she described as "wonderful".
'Nice guy'
Charon Pepper was 14 when she and her family met Mr Clifford, his then-wife and daughter at the holiday resort in May/June 1977.
It was previously alleged that the defendant was at the same resort in late August that year when he met and indecently assaulted a 15-year-old girl.
Mr Clifford has denied being there at that time.
Asked if Mr Clifford ever acted inappropriately towards her or if she was aware of him doing so to anyone else, Ms Pepper said: "Never. Nothing untoward whatsoever."
She added that the publicist was "very polite", "sincere" and a "genuinely nice guy". She said her family has remained friends with Mr Clifford ever since first meeting him.