New bid to extradite terror suspect Haroon Aswat to US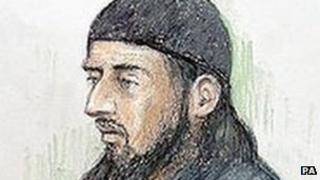 The government has begun a new attempt to extradite a British terror suspect accused of conspiring with radical cleric Abu Hamza al-Masri to the US.
The European Court had blocked Haroon Aswat's extradition, saying his likely detention in a top security jail could cause his mental health to deteriorate.
But the home secretary is trying again, insisting Mr Aswat would be moved to a hospital if his health worsens.
His lawyers argue there remains "a real risk" he could be held in prison.
US authorities allege Mr Aswat was involved in a plot to set up a terrorist training camp at Bly, in Oregon, with Abu Hamza, who was sent for trial in the US in 2012.
Mr Aswat, who used to live in Yorkshire, was arrested in 2005 by UK authorities following a request from the US for his extradition.
In 2008 he was transferred from prison to Broadmoor high-security psychiatric hospital after being diagnosed with paranoid schizophrenia.
'Wholesale neglect'
In April 2013, the European Court said his mental and physical health could significantly worsen in the "more hostile" environment of a "supermax" prison - most likely ADX Florence in Colorado - where he would have no support from family or friends.
It said that extraditing Mr Aswat would breach his human rights, specifically Article 3 of the European Convention on Human Rights which prohibits inhuman or degrading treatment.
That ruling was upheld in September after a challenge from the UK government.
Now, however, lawyers for Home Secretary Theresa May have told the High Court there is new information showing that Mr Aswat can lawfully be sent to the US.
James Eadie QC pointed to a letter received from the US Department of Justice, which states that "if at any stage it became clear that Mr Aswat's mental condition was such that it could not be managed in ADX Florence, then he would be transferred from there to a more suitable mainstream facility, and if necessary, a Psychiatric Referral Center."
This letter had, Mr Eadie said, "filled the gaps which Strasbourg had identified".
He said if extradited, Mr Aswat would be accompanied on the flight by an "emergency medical technician" and would be given a "full mental health evaluation within 24 hours of his arrival".
He would also see a specialist within 14 days, the QC added.
However, Edward Fitzgerald QC, representing Mr Aswat, told the court there had been no assurance from the US that his client would be held in a hospital.
"The executive is perfectly capable of giving an executive order saying he won't go to ADX Florence," he said. "Of course, they don't want to be told what to do... [so] there remains a real risk he will go there."
Mr Fitzgerald said there was a "wealth of evidence that schizophrenics do go to ADX Florence" and that there was "wholesale neglect" of them there.
He also expressed concern at the conditions in correctional centres where defendants are held prior to trial, saying they were "very different from the therapeutic milieu provided by a hospital".
He said Mr Aswat's schizophrenia has been stabilised by medication - so much so that he is currently studying for an Open University degree - but that his medication was not approved for use in America.
Abu Hamza has denied terrorism charges in the US. His trial is expected to begin later this month.
The case continues.