Britain hands over command of Afghanistan's Helmand province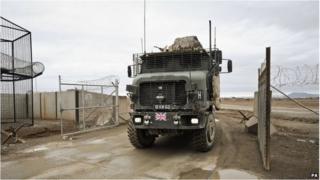 Britain's command of military operations in Helmand province in Afghanistan has been formally handed over to a US general.
It is the latest step in the UK's withdrawal of combat troops from the country, which is due to be completed by the end of this year.
Forces remaining will be part of the US-led Regional Command (South West).
A total of 448 UK military personnel have died in Afghanistan since the start of operations in October 2001.
Forces reduced
British forces in Helmand have been reduced from a peak of more than 10,000 to about half of that number, as Afghan national forces have taken a greater role in the country's defence.
Last month the MoD announced the closure or handover of three frontline bases in Helmand, leaving just one outside Camp Bastion.
Britain's senior officer in Helmand will now be Deputy Commander Regional Command (South West), Brig Robert Thomson.
Last month, Brig James Woodham, the final commander of Task Force Helmand, said "history would judge" the success of the British mission in Afghanistan.