UK soldier Ryan McGee in court on terror charge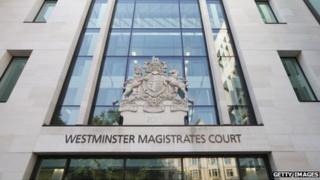 A soldier has appeared in court charged with explosives and terrorism offences.
Ryan Adam McGee, 19, of Mellor Street, Salford, allegedly made an improvised bomb and had a copy of The Anarchist Cookbook on bombs.
He was serving with the 5th Battalion The Rifles when he was detained in December at an Army base in Germany after the discovery of a suspicious device at a Salford house.
Westminster Magistrates' Court was told that he denies the offences.
His conditional bail was renewed and he will appear next at the Old Bailey on 2 May.
The Anarchist Cookbook includes instructions for the manufacture of explosives as well as for home-manufacturing of drugs.