Phone-hacking defendant: 'I was hiding porn from police'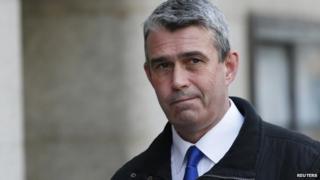 News International's head of security has told the phone-hacking trial that items he removed for safekeeping contained pornography belonging to another defendant, Charlie Brooks.
Mark Hanna told the jury at the Old Bailey in London it was "obvious" Mr Brooks did not want the police or his wife, Rebekah, to see such material.
Mr Hanna and Mr and Mrs Brooks are accused of hiding evidence from police.
All three deny conspiracy to pervert the course of justice.
Giving evidence for a second day, Mr Hanna said Mr Brooks had asked him to look after a brown leather bag left in his car and later handed him a padded bag and a laptop for safekeeping too.
"He explained it was his own personal property and that it was pornography," said Mr Hanna.
"It was no great surprise he did not want it to get into the hands of the police or his wife."
Later Mr Hanna took all of the items Mr Brooks had asked him to look after back to a News International building.
Once there he put the items in black bin bags and sealed them with sticky tape.
After a series of texts and calls he made arrangements for another of his security team to return the items to the Brooks's flat in Chelsea.
Mr Hanna told the jury he also asked the security team to pick up a pizza for Charlie Brooks and deliver it with the bags.
He denied throwing away any property belonging to News International over the weekend of 16 and 17 July 2011 or any property he took with him from the Brooks's flat.
He said everything he took was put into the black bin bags.
'Not best pleased'
Mr Hanna went on to explain that the bin bags were subsequently taken by the police.
"Charlie was not best pleased," he said.
Mr Hanna is one of seven defendants in the case, which revolves around illegal phone hacking by journalists at the now defunct News of the World newspaper.
Rebekah Brooks is a former editor of the newspaper and was chief executive of News International when the phone-hacking scandal unfolded.
All seven defendants deny the various charges.
The case continues.