Burka escape: Teenager arrested over terror suspect disappearance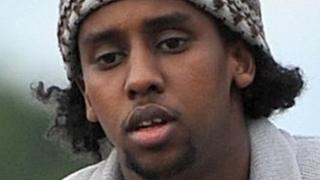 A 17-year-old boy has been arrested over the disappearance of a terror suspect, who absconded after changing into a burka at a London mosque.
Mohammed Ahmed Mohamed, who is still missing, escaped from government minders in November while subject to an order restricting his movements.
Mr Mohamed had been linked to Somali militant group al-Shabab.
The 17-year-old was arrested on on suspicion of conspiring with another to breach a so-called TPim order.
Scotland Yard said he had been taken to a south London police station where he remained in custody.
TPims - made under the Terrorism Prevention and Investigation Act - are used to restrict movement, the use of computers and mobile phones and meetings with others.
'Absurd' appeal
Mr Mohamed disappeared on 1 November after he entered a mosque in Acton, west London, wearing a jacket and trousers - before leaving disguised in a burka.
CCTV footage captured him entering and leaving the building.
It was later revealed that, when he disappeared, Mr Mohamed was facing charges over 20 alleged breaches of his TPims.
At the end of January, it was announced that - despite his disappearance - Mr Mohamed's lawyers had launched an appeal against the restrictions placed on him.
Justice Secretary Chris Grayling said at the time that the case, and Legal Aid granted to Mr Mohamed, were "absurd".
Mr Grayling said he had asked for "an urgent review of the rules to prevent this kind of thing happening again".
"It is completely unacceptable that someone who has flouted our laws and ignored a court order and fled in disguise should then be at the centre of a legal case funded by the taxpayer," he added.
Orders 'flawed'
Mr Mohamed is jointly appealing with a second terror suspect, referred to as C.
Both are British citizens of Somali origin.
In 2012, Lord Justice Lloyd Jones ruled there were reasonable grounds for Home Secretary Theresa May to believe the men had been involved in terrorism-related activity, including plans to target Western interests in Somaliland in east Africa.
Lawyers for the two men say their control orders are procedurally flawed on a number of grounds.