Are Muslim mothers the cure for radicalisation?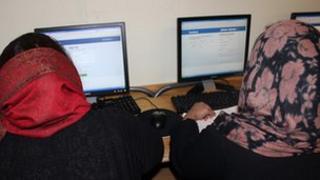 The only Muslim survivor of the 7/7 bombings says she is desperate to stop young Muslims being radicalised. And now Sajda Mughal has herself found a radical solution to extremism: Muslim mothers.
Ms Mughal has spent most of her adult life fighting Islamic extremism.
On 7 July 2005 she was running late and had taken the Piccadilly line to her job in the City.
She believes there was just one other Muslim on board her Tube train - Germaine Lindsay, whose bomb was to kill 27 people on board, including himself.
Ms Mughal says: "What happened on 7/7 basically made me think about why those four had carried out the attack, and in what ideology, which was obviously an incorrect ideology."
'Society's nurturers'
Now 31, she is director of the JAN Trust, which provides support and advice to women she describes as coming from the margins of society: "Often they have no education, no English and no employment."
Last month the Mayor of London, Boris Johnson, said Muslim children who are at risk of being radicalised by their parents should be taken into care.
But Ms Mughal's solution to the problem of radicalisation is the creation of a group of Muslim mothers to fight on the front line of the battle against extremist ideology in Islam.
One of the JAN Trust's declared aims is to "empower women as society's nurturers", and its latest scheme, called Web Guardians, aims to give the mothers of young Muslims the online know-how to stop children being radicalised behind their own bedroom doors.
Ms Mughal explains the philosophy behind the programme: "We are equipping these Muslim mothers with the key skills, with the knowledge in order for them to go online and to monitor their children.
"But we provide them with a counter-narrative for them to have discussions with the children in a safe offline environment."
In a downstairs room at the JAN Trust's office near Alexandra Palace in north London, seven women sit in a circle.
As well as Ms Mughal and her interpreter there are mothers whose families originate from disparate Muslim communities.
Zahra is Somali; Maryam is Palestinian; Muneer comes from Iran; and Samina and Seema are both Pakistani.
As well as their Muslim faith, what they have in common are teenage children.
Maryam tells of her son's anger with the situation in Gaza, where her family come from: "When they see the way things are going, it wasn't right. It's double standards."
'Grievance about Syria'
As she speaks the others nod their heads in tacit sympathy.
"But now they go for Syria. My son was in a demonstration for Syria because they say something is not right," says Maryam.
All the women say their teenagers are curious and often angry about events in the countries where their families originated, as well as being keen to do something.
The places most often up for discussion are Syria, Iran and Egypt.
In the past this anger on the part of young Muslims might have been channelled into radicalisation. But Ms Mughal believes these mothers' interventions with their children could stop that happening in the future.
She says mothers are a much greater influence than the mosque or school attended by teenagers.
Ms Mughal says of Maryam: "Her son has a grievance about Syria, but he has channelled it positively by attending a demonstration rather than destructively."
A study by the JAN Trust found more than 90% of the Muslim mothers it spoke to lacked web access, and were unaware what their teenage children were viewing online.
The Web Guardians project teaches mothers how to use the web before they learn how to look at their children's internet history.
Part of the course involves exposing them to the violent language and imagery used by extremist websites, with shocking results for some of them.
Ms Mughal's interpreter, Rafaat, a Muslim mother herself, told of the horrified reactions when they first saw such pictures: "When the photographs were shown there was silence and all of sudden I could hear… wow, what's happening?"
These mothers' shared experiences suggest this project might genuinely help prevent the radicalisation of some young Muslims.