Selfie Day: Who do we think we are?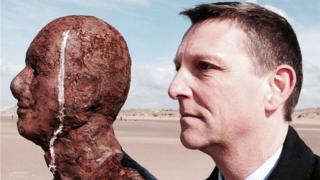 What defines your identity in modern day Britain?
The BBC is exploring the notion of "Who do we think we are?" and we want to see selfies of you with something or someone with whom you identify.
A survey for the BBC's Who Do We Think We Are? project, asked if people felt more or less connected to others than they did a decade ago.
More people said neighbourhood ties and links with the global community were getting stronger rather than weaker. What do you think?
You can share your selfies with us by posting them to Twitter using #selfieday, use the BBC upload form, or email us at yourpics@bbc.co.uk and don't forget to tell us what aspect of your identity the picture is illustrating.
BBC journalists have been sending in their selfies already. Here are a few of the best ones.
Left: Robert Peston took his selfie while filming at the wall of Marshalsea debtors' prison. "#EconCliche," he joked.
Right: Europe correspondent Matthew Price: "London today. More at home here than other English cities."
BBC Breakfast sports presenter Mike Bushell sent in two selfies reflecting different sides of his character. "Two random selfies showing my love for running (at the London Marathon) and fancy dress".
Left: BBC News defence correspondent Caroline Wyatt snapped herself outside the Royal Opera House in London.
Right: BBC education correspondent Reeta Chakrabarti took her selfie in South Korea. "Wistful for travel" she added.
Left: BBC Look North presenter Peter Levy sent in his selfie from the centre of Hull. "Out of the studio where I hear all the best stories" he added.
Right: East Midlands Today's arts reporter Geeta Pendse has her sights set on places further afield. "The world from my desk - always looking for adventure!"
"They're even doing them at the Grand National at Aintree" tweeted BBC Sport's Francis Keogh after he was joined for a selfie by Sir Cliff Richard and Cilla Black.
Left: BBC Breakfast presenter Bill Turnbull captured his passion for beekeeping. "Bees alive and flying. Happy days," he tweeted.
Right: Newsreader Simon McCoy shared a selfie snuggle with man's best friend.
BBC Radio 5 live Breakfast presenter Rachel Burden took two selfies over the weekend. "Friday afternoon snooze, my favourite place" and "Sunday morning rugby, ripped clothes and muddy knees".
Left: BBC science editor David Shukman sent in his selfie while reporting from Belfast harbour.
Right: BBC Radio Lincolnshire presenter William Wright took his snap playing with his children. "Playtime. Fun time before work."
BBC News Africa correspondent Andrew Harding: "I like travel. And fish and chips."
Produced by Jonathan Griffin.