Maria Miller row: Department's Twitter feed hacked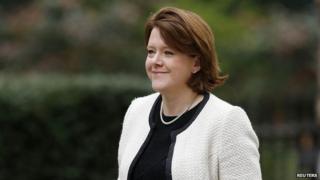 Rogue tweets poking fun at under-fire Culture Secretary Maria Miller were posted on an official government Twitter feed on Saturday evening, after the account was hacked.
Three tweets appeared on the Department for Culture, Media and Sport's feed and were quickly deleted, but not before they were shared on social media.
The MP has been ordered to repay £5,800 in over-claimed mortgage expenses.
A spokeswoman for the department said it was investigating the hacking.
The first rogue tweet, posted on the government department's Twitter account @dcms, read: "Seriously though guys which one of us hasn't embezzled and cheated the taxpayer? #FreeMariaMiller."
The second referred to Mrs Miller as being "like a modern day Robin Hood, she robs the poor to help the rich".
And the final tweet said: "Is @Maria_MillerMP guilty? We will let the public decide."
A spokeswoman from the DCMS confirmed the account had been hacked but said the department had "absolutely no idea" who was responsible.
Asked if they had contacted Twitter or the police, the department's spokeswoman said: "No, all I've done is change the password."
Mrs Miller apologised to MPs on Thursday after a parliamentary watchdog found she broke the ministerial code for failing to co-operate fully with an inquiry into her expenses.
The Standards Committee also ordered her to repay £5,800 which she had over-claimed for her mortgage for a house she lived in with her parents.
The investigation cleared her of using public money to provide for her parents.