Two British women die in Tenerife after being 'dragged into the sea by a wave'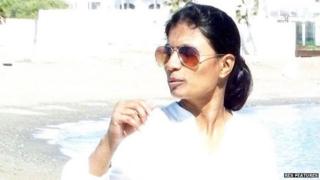 Two British women have drowned in the sea during a holiday on the Spanish island of Tenerife.
Police say consultant obstetrician Uma Ramalingam, 42, and relative Barathi Ravikumar, a GP, were "dragged into the sea by a wave" on Sunday at Playa Paraiso, in the island's south-west.
Another woman and two children, aged 10 and 14, were rescued.
Some reports say the women had jumped into the sea to try to save the children.
A spokeswoman for emergency services on the Canary Islands said: "At just after 6pm yesterday afternoon we received several calls alerting us to two people who were in difficulties in the sea and needed help to get out of the water.
"Witnesses rescued two women and two children from the sea.
"An emergency helicopter located a fifth person in the sea, a woman, and one of the respondents dangled out of the craft and pulled her out.
"After realising that she was in cardiac arrest, respondents gave her basic CPR while they took her to land so she could be attended by healthcare personnel."
The spokeswoman said the children had no life-threatening injuries.
Eyewitness Adam Cramer told BBC 5 live he had just checked into his hotel when he heard shouts coming from outside and people said children were in trouble in the sea.
He said he saw a girl struggling in the water as the waves pounded against sharp volcanic rock.
"I managed to get into the water and pull her away from the rocks," Mr Cramer said.
"The waves were just throwing her and me against the rocks.
"She was in a terrible state. I spoke to her and she calmed down. We started a long swim with her on my back until we got to somewhere where it was just that bit safer and I was able to get her out of the water."
"She told me I saved her life."
Mr Cramer said that it was unclear whether Mrs Ramalingam and Dr Ravikumar had been swept into the water at the same time as the children, or had dived in to try to rescue them.
The Guardia Civil in Tenerife has launched an investigation into the deaths.
A spokeswoman said: "It appears that the two women were dragged into the sea by a wave yesterday at around 6pm in Playa Paraiso, Adeje.
"We can confirm that both were British and both were relatives, although we are not certain how they were related at the moment."
'Fantastic doctor'
Royal Oldham Hospital in Greater Manchester confirmed that Mrs Ramalingam of Altrincham, Cheshire, was a consultant obstetrician there.
She registered as a doctor in the UK in February 2003 after graduating from Tamil Nadu Medical University in Chennai, India, in 1994.
Olubusola Amu, of the Pennine Acute Hospitals NHS Trust - which includes the Royal Oldham Hospital - said: "We are greatly saddened to hear of the death of Uma who had been working for the trust for about six years.
"She was a fantastic doctor who brought a lot of hope to the high-risk women attending the women and children's unit at the Royal Oldham Hospital.
"This is a terrible shock to everyone who knew Uma. Our thoughts are with her family at this sad time. She will be sorely missed."
'Wonderful'
Colleagues of Dr Ravikumar, who leaves a husband and two children, said she was "hardworking and dedicated".
She was a partner at the Heath Surgery, Bracebridge Heath, Lincoln. She joined the practice in 2011, and became a partner a year later.
A statement from the Heath Surgery said: "It is with great sadness and shock that our practice has learned of the tragic death of Dr Barathi Ravikumar, a hardworking and dedicated GP.
"She always worked in the best interests of patients and was a wonderful colleague and friend for over three years.
"She will be greatly missed by us and all our sincere thoughts and condolences are with her family and friends at this very sad time."
A spokesman for the Foreign and Commonwealth Office said: "We can confirm the deaths of two British nationals in Tenerife on 6 April.
"We are in touch with the authorities and are providing consular assistance with the families."