Bid to free last British resident held at Guantanamo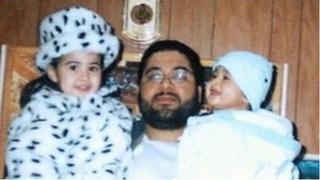 A motion seeking the release on grounds of ill-health of a British resident held in Guantanamo Bay has been filed in a US court by a campaign group.
Reprieve organised an independent medical evaluation of Shaker Aamer, who remains in detention despite twice being cleared for release.
It detailed the extent of Mr Aamer's physical and psychological damage and recommended treatment in Britain.
The US has reportedly cleared him for transfer to Saudi Arabia only.
The UK is seeking Mr Aamer's return to his family in Britain.
The Saudi national has permission to live in the UK indefinitely because his wife is a British national. They have four children and live in London.
Medical report
During 25 hours with a forensic psychiatrist, Mr Aamer spoke of severe torture and harsh prison conditions resulting in chronic physical ailments.
Mr Aamer also described psychological distress, the way interrogators alternated cruelty and kindness, threatened to rape his five-year-old daughter and refused to let him relieve himself.
The medical report concluded that Mr Aamer suffered from post-traumatic stress disorder, depression and paranoia.
The examiner said Mr Aamer's conditions were impossible to treat in Guantanamo.
Dr Emily Keram, who assessed Mr Aamer at the military prison, said: "The length, uncertainty, and stress of Mr Aamer's confinement has caused significant disruptions in his... ability to function. He is profoundly aware of what he has lost."
She concluded: "Mr Aamer requires psychiatric treatment, as well as reintegration into his family and society and minimisation of his re-exposure to trauma and reminders of trauma."
'Desperate news'
The medical examiner said Mr Aamer's psychiatric symptoms would worsen if he was repatriated to his country of birth, Saudi Arabia.
Mr Aamer's lawyers filed a motion in court in Washington DC on Monday, seeking his release on the basis of the report's findings of extreme ill health.
Clive Stafford Smith, one of Mr Aamer's lawyers, said: "This desperate news about Shaker's mental and physical state comes on top of 12 years of abuse.
"Shaker has described himself as a rusty old car that is falling apart. There is no reason he should not have come home to his wife and kids when he was cleared, seven years ago."
Soon after the 9/11 attacks, Mr Aamer was detained in Afghanistan where it has been alleged he was involved in fighting at Tora Bora, an al-Qaeda stronghold targeted by the Americans as they hunted Osama Bin Laden.
Mr Aamer denies this and says he was engaged in charity work.