BBC Woman's Hour 2014 Power List: The game-changers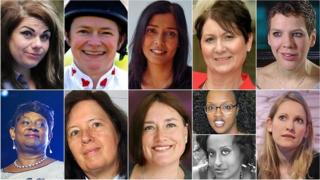 Woman's Hour on BBC Radio 4 has announced its Power List for 2014, naming those it judges to be the UK's 10 most important women. The programme elected a panel to pick the top 10 "game-changers" - women who have fought for what they believe in, and have dedicated their time to making a difference to the lives of those around them. So who are they?
1. Doreen Lawrence
Topping the list, Doreen Lawrence, Baroness Lawrence of Clarendon, OBE, is an anti-racism campaigner and Labour peer. After her son Stephen Lawrence was murdered in a racist attack in south-east London in 1993, she and Stephen's father Neville founded the Stephen Lawrence Charitable Trust to promote a positive community legacy in their son's name.
Since Stephen's death, she has worked tirelessly to expose racism and help other victims of racist crime. She campaigned for a wide-ranging judicial inquiry which eventually concluded that the Metropolitan Police was "institutionally racist".
She has been selected to sit on panels within the Home Office and the Police Service. Doreen Lawrence is also a member of both the board and the council of the organisation Liberty and patron of the charity Stop Hate UK.
2. Julie Bailey
Julie Bailey is a campaigner and founder of Cure the NHS. Bailey set up this group after the death of her mother Bella at Stafford Hospital in 2007. Appalled at what her mother had been through, she campaigned and exposed the failings at Stafford Hospital on behalf of other relatives of patients who had died there.
Her whistleblowing led to a public inquiry by Robert Francis QC, which uncovered cases of neglect and abuse. Her work resulted in new rules and regulations being introduced into the NHS, designed to ensure higher standards of care. Julie Bailey faced online abuse and last year said she had been forced to sell her cafe and move away from Stafford.
3. Professor Nazneen Rahman
Professor Nazneen Rahman is a geneticist and doctor specialising in cancer and disease gene recovery. Prof Rahman has had significant impact in the fight against cancer. She is head of the Division of Genetics and Epidemiology at the Institute of Cancer Research and head of the Cancer Genetics Clinical Unit at the Royal Marsden NHS Foundation Trust.
In her research role, Prof Rahman leads two groups, working to identify genes that predispose people to develop breast or childhood cancers. Thousands of families throughout the UK are participating in her research, which has been highly successful in identifying new genes and genetic mechanisms which cause cancer.
4. Carmel McConnell
Carmel McConnell is founder of the charity Magic Breakfast and a life-long social activist. She was chosen for her battle to promote equality and fight deprivation. Magic Breakfast has delivered more than 6 million breakfasts to children at more than 200 primary schools, many in socially disadvantaged areas.
It was while researching her first book, Change Activist, that Carmel McConnell became aware of the problem of children arriving at school too hungry to learn.
She re-mortgaged her home to start the charity and founded the social enterprise Magic Outcomes in 2003 to help the neediest primary schools through better community and business partnerships.
5. Julie Bentley
Julie Bentley has been chief executive of Girlguiding UK (The Guide Association) since 2012. It is one of the biggest organisations for girls and young women in the UK, with more than half a million members. She made waves when - days after her appointment - she described Girlguiding as the "ultimate feminist organisation".
Bentley oversaw the decision by Guides to support the No More Page 3 Campaign, and is behind its latest #BeBodyConfident campaign, focusing on low self-esteem and tackling what it describes as a body image crisis.
Last year, Girlguiding dropped its historical allegiance to God and country, under Bentley's watch. She has also worked for substance misuse charity ARP and was chairwoman of the Greater London Association of Alcohol Services.
6. Nimco Ali and Leyla Hussein (jointly)
Jointly listed, Leyla Hussein and Nimco Ali are leading voices in the campaign against female genital mutilation (FGM). Both are co-founders of Daughters of Eve - a not-for-profit organisation which works to protect the health rights of young girls from communities which practise FGM - and Nimco Ali is also the director.
Hussein trained as a psychotherapist and has a background as a youth outreach worker. She is also chief executive of Hawa's Haven, a collective of Somali women campaigners and community activists raising awareness about gender-based violence in Somali communities in the UK and the Horn of Africa.
Ali studied at Bristol University and worked as a civil servant, independent training consultant and women's rights activist for several years. She has written widely about FGM and violence against women and girls within the black and minority ethnic communities in the UK.
7. Dido Harding
Dido Harding is chief executive of the telecommunications company, TalkTalk Group, one of the UK's largest internet providers. She has called for action from the government on internet pornography and suicide sites. She has supported moves to automatically block internet pornography and the creation of pre-ticked porn filtering in broadband packages.
Following this, she turned her focus to suicide websites, telling education ministers: "Suicide is more important to parents than porn, so why mandate [filters against] porn and not suicide?" TalkTalk has said suicide is the subject matter most commonly blocked by customers who use its content filtering software - followed by self-harm, pornography, weapons and violence.
8. Francesca Martinez
Francesca Martinez is a comedian, actress and disability campaigner who has cerebral palsy. Martinez has dedicated her life to changing the way disabled people are treated in society.
She spent a year campaigning to get the 100,000 signatures required to trigger a parliamentary debate on welfare reform and its impact on disabled people. It called for an assessment of the cumulative impact of the government's welfare reforms on sick and disabled people and demanded an immediate end to the work capability assessment (WCA) - the test that determines fitness for work.
In an interview with the Guardian she said: "It seems we're living in a country at the moment where if you do get sick or if you do become disabled, not only have you got to deal with those challenges but you have to deal with the fact that the vital safety net that society provided for many decades is being eroded."
9. Laura Bates
Laura Bates is a journalist and the founder of the Everyday Sexism Project, a collection of more than 10,000 women's daily experiences of gender inequality. She started the project in 2012 after finding it difficult to speak out about sexism. By December 2013 the site had 50,000 entries, including thousands from girls under the age of 18.
Bates was inspired by observing the behaviour of young girls while she was a nanny, whose female role models were based only on their appearance. Everyday Sexism successfully campaigned for the removal of a mobile app, aimed at girls, to use plastic surgery to make a game character "slim and beautiful". The group said the app promoted a poor perspective about body image to those of a young age.
10. Caitlin Moran
Caitlin Moran is a broadcaster, TV critic and columnist at the Times. Her books and journalism have aimed to change the tone of the debate around feminism, making it relevant to a new generation of teenagers and adults. Fusing her writings with pop culture and raw humour, her best-seller How to be a Woman for many signalled the dawn of a new wave of feminism.
A prolific Twitter user, last August she organised a boycott of the site in protest at its perceived failure to deal adequately with offensive content posted on the Twitter feeds of public figures. She is touring the UK this summer to coincide with the release of her new book How to Build a Girl, which she has described as "the only novel so far in existence with an entire chapter about cystitis."
How to listen to Woman's Hour:
BBC Radio 4: Weekdays at 10:00 and Saturdays at 16:00