Government urged to scrap CCTV parking camera ban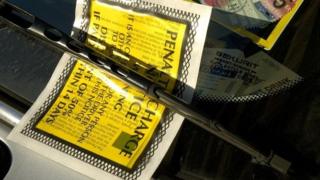 The government is being urged to scrap plans to ban CCTV cameras used to enforce parking rules.
The Local Government Association said banning CCTV would not reduce tickets but would put schoolchildren and other vulnerable pedestrians at risk.
But a local government minister branded the cameras an excuse to raise money by issuing fines on an "industrial scale".
The Department for Transport has insisted it was committed to reining in "over-zealous" parking enforcement.
CCTV parking cameras are used to tackle dangerous parking outside schools, prevent motorists illegally blocking driveways, loading bays and bus lanes, and to stop people posing a risk to pedestrians by driving along and parking on pavements.
The Local Government Association (LGA) argues that the cameras serve as a deterrent - particularly outside schools - and that without them, children and people with disabilities could be in increased danger.
'Strong opposition'
It has called for greater dialogue on the issue and urged the government to convene a working group of councils, charities, road safety campaigners and motoring groups to rewrite the current statutory parking guidance and revise the rules on the use of CCTV.
It is backed by a number of organisations including the National Association of Head Teachers, road safety charity Brake, the Royal National Institute for the Blind and the Parliamentary Advisory Council for Transport Safety.
Peter Box, LGA economy and transport board chairman, said: "The groups all agree with councils that banning CCTV parking enforcement will put schoolchildren and disabled pedestrians at risk and worsen road safety.
"The government has wrongly claimed councils are alone in wanting to protect CCTV powers but, in fact, they face strong opposition to a ban that is impossible to ignore."
At a recent debate on parking at Westminster Hall, the LGA claimed that CCTV cameras accounted for just 2% of total council parking income.
But last year the Conservatives said that static and car-mounted cameras have been used to issue more than 10 million fines, totalling £301m, over the past five years.
'Undermine justice'
Local Government Minister Brandon Lewis said: "CCTV spy cars are just an excuse for councils to raise money from issuing parking fines on an industrial scale.
"They undermine natural justice, as car owners receive the fine weeks later in the post making it extremely hard to challenge on appeal. We have scrapped Whitehall planning policy that encouraged councils to hike parking charges and removed restrictions around the provision of off-street parking spaces."
Mr Lewis added that nothing the government has proposed would prevent a parking warden or police officer issuing a penalty in the case of genuinely dangerous parking.
The Department for Transport said the government was committed to reining in over-zealous parking enforcement.
A spokeswoman said: "It is not fair to motorists and needs to stop. That is why we have frozen parking penalty charges for the remainder of this Parliament. However, we haven't stopped there.
"We are now looking at the responses to consultation that proposed a number of changes to make sure local authorities are not short-changing motorists and operate in a fair manner.
"These changes could see the end of CCTV being used for on-street parking, unnecessary yellow lines and a more common-sense approach when it comes to grace periods."
'Viable alternatives'
The Institute of Advanced Motorists (IAM) also criticised the use of CCTV cameras.
Head of technical policy Tim Shallcross said a camera and computer could not exercise common sense or understanding when dealing with extenuating circumstances.
"If a person saw a car pull over at the side of the road because a child inside it was being sick or the car was getting out of the way for an ambulance, they could exercise discretion and not issue a ticket," he said.
"A camera and its computer system could not do that. It makes the public suspect, at the very least, that this is nothing but a revenue generating exercise."
Mr Shallcross also rejected the LGA's argument that removing the CCTV cameras outside schools would put children at risk.
He said schoolchildren were at their most supervised when outside school.
"Where parking is causing a genuine danger outside schools then people deserve to be fined," Mr Shallcross added.
"But where there is no realistic alternative to dropping off the kids and picking them up again, councils must start thinking again about viable alternatives."