Phone-hacking: Stuart Kuttner knew of Milly Dowler message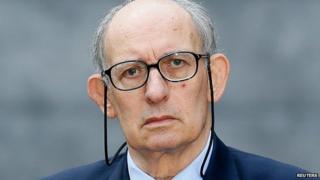 The News of the World's former managing editor has told the hacking trial he knew the newspaper had a voicemail from missing schoolgirl Milly Dowler's phone at the time of her disappearance.
Stuart Kuttner said he had passed "all the information that I had been given" to the police investigating the murdered teenager's disappearance.
But he denied authorising reporters to hack phones, including Milly's.
Mr Kuttner denies a charge of conspiring to intercept voicemails.
Milly, whose real name was Amanda but was known as Milly, was 13 when she vanished as she walked home from school in Walton-on-Thames in March 2002. Her remains were found six months later in woods in Hampshire.
Giving evidence at the Old Bailey for the second day, Mr Kuttner said he was aware the NoW was in possession of the voicemail, which offered "Mandy" a job.
'Utterly baseless'
At the time NoW reporters followed up the potential lead, supplied to the paper from an intercepted voicemail message by convicted phone-hacker Glenn Mulcaire.
The message later turned out to be left on the schoolgirl's mobile phone erroneously by a recruitment agency.
Asked about what he had done when he discovered the message, Mr Kuttner said he had phoned Surrey Police on 13 April 2002, the day before the now defunct Sunday tabloid was due to be published.
Mr Kuttner denied he had "agreed in advance" that somebody should hack the phone of the missing teenager.
He said at the time of ringing the police he did not believe voicemails had been regularly hacked by people at the NoW.
Asked if he knew Mulcaire had accessed Milly's voicemail, Mr Kuttner said: "No, I did not."
He also denied authorising weekly payments to Mulcaire in an effort to conceal the true cost of his annual payments.
He told how he believed Mulcaire was one of a number of private investigators who traced people the newspaper wanted to speak to.
He said he believed Mulcaire's payments of around £100,000 a year were going to "a research agency", describing allegations he conspired with others to hack phones while at the NoW as "utterly baseless".
'Out of date'
"It is so far removed from my concept of journalism as to be utterly and absolutely and truly false", he said.
The court heard Mr Kuttner sent a message to senior staff in 1999 asking them to cut down on detective agency spending.
Mr Kuttner, aged 74, of Woodford Green in Essex, said he wanted reporters to "knock on doors" and follow their own leads, but said his views were considered "out of date" by some colleagues at the paper.
Defence counsel Jonathan Caplan QC said prosecutors claimed that Mr Kuttner was complicit in conspiring with others to hack phones "from the beginning".
However, Mr Kuttner denied the allegations, saying he did not conceal payments from follow managers.
"I did not do that, in this case or any case," he said.
Mr Kuttner was the now closed newspaper's managing editor for 22 years and was deputy editor prior to that.
He is being tried alongside seven other defendants, all of whom deny the charges against them.
The trial continues.