PC Keith Blakelock killing case defended by police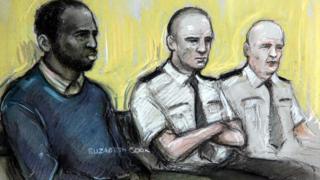 Police chiefs have defended their decision to pursue Nicky Jacobs over the murder of PC Keith Blakelock.
Scotland Yard has been criticised over the use of evidence from people who have been paid to co-operate.
Questions have also been asked about the length of time it took to bring charges against Mr Jacobs, who has been cleared of the 1985 killing.
But Det Supt John Sweeney said he did not regret the way the inquiry had been handled.
The Crown Prosecution Service (CPS) also insisted it was "right" to bring the case against Mr Jacobs, following PC Blakelock's death during riots on the Broadwater Farm Estate in Tottenham, north London.
'Investigative challenge'
And, Assistant Commissioner Mark Rowley said the Met would not be deterred from future investigations.
He said: "We will not give up on bringing Keith's killers to justice. There are people who know exactly who took part in the attack on Keith and people who took part themselves."
During the original probe into PC Blakelock's death, police did not have the benefit of modern DNA and forensics, or CCTV, senior officers said.
Instead, they had to rely on confessions and witnesses.
When a second investigation into the officer's death was launched in 1993, the director of public prosecutions chose to treat many people involved in the attack as witnesses rather than suspects.
Mr Rowley said: "It would be nice to have alternative, witnesses of perfect character, but unfortunately you do not tend to get them at riots - the lovely old lady with a perfect memory out walking the dog.
"We have had to work with what we have got which is an investigative challenge."
'No rewards'
Two witnesses - known as "kickers" because of their role in the attack - were paid expenses for housing and living costs under witness protection schemes.
They received thousands of pounds in 1994 - but only after there appeared to be no prospect of a further prosecution.
But police insisted there were no rewards for giving evidence.
A further prosecution did eventually come, but police say it was up to the witnesses to decide themselves if they wanted to give evidence again.
The cold case review that led to the most recent case was no small task and took years.
Police say the had to re-examine 74,294 documents, 14,127 exhibits and 17,765 names before they could even begin a fresh investigation.
The total cost is likely to run into the tens of millions of pounds.
As a result, 20 suspects were identified as being at the murder scene. Police asked the CPS to consider charges against six in 2005.
The decision to charge Mr Jacobs was made in 2013.
'Respect jury's decision'
Mr Rowley said it was vindicated after judge Mr Justice Nicol agreed a jury should be allowed to decide on the evidence.
He also refused to throw the case out half way through after Mr Jacobs's lawyer claimed there was no case to answer.
The CPS also said it stood by its decision to pursue the case.
Jenny Hopkins, Deputy Chief Crown Prosecutor for CPS London, said: "This case was charged under the Full Code Test of the Code for Crown Prosecutors following a review of the material from all three police investigations spanning over 20 years.
"Following this review we concluded that there was sufficient evidence for a realistic prospect of conviction and it was in the public interest to charge Nicholas Jacobs with the murder of PC Keith Blakelock.
"It was right that all the evidence in this case was put before a jury and we respect their decision."