BA cabin crew struggled with fire that 'kept reigniting'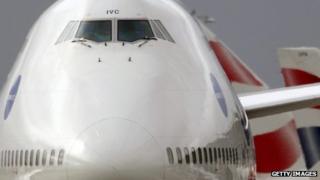 Air accident investigators have described a struggle by cabin crew to put out a fire on a British Airways jumbo jet on 14 October last year.
The fire happened on an overnight flight from Dallas/Fort Worth in the US when the plane was about two hours from its destination at Heathrow airport.
The crew used extinguishers on the fire but found it continually reignited.
British Airways said its staff were trained to deal with such incidents and no passengers were affected.
The Air Accidents Investigation Branch (AAIB) said cabin crew had initially noticed an "acrid, electrical burning smell".
Flames and smoke were found to be emanating from an item of in-flight entertainment in one of the galleys.
Crew then tackled the fire using BCF (bromochlorodifluoromethane) extinguishers but "had difficulty due to continual re-ignition of the fire".
Rare
"It was subsequently considered that the unit had not been electrically isolated during the event," the AAIB said.
It said BA had subsequently made several internal safety recommendations regarding both cabin and flight crew procedures and training.
BA said: "Our crews receive extensive training and aircraft are fitted with safety equipment to deal with a variety of issues.
"Incidents like this are very rare, and while lessons can always be learnt, the actions of our staff meant the problem was resolved quickly and calmly without affecting any of our customers."
There were 274 passengers and 17 crew on board the flight. No-one was injured in the incident, which lasted about 10 minutes.