Phone-hacking: Kuttner denies leaking Diana suicide story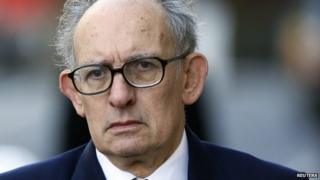 A former managing editor of the News of the World has denied allegations he leaked a story about a rumoured suicide bid by Diana, Princess of Wales.
Stuart Kuttner told the hacking trial that claims he provided details which ended up in a rival paper were "false".
The trial heard he asked royal editor Clive Goodman for details behind the rumour and passed the information to a journalist writing a book about Diana.
Mr Kuttner denies a charge of conspiring to intercept voicemails.
The former newspaper boss was in the witness box for a third day, in proceedings which later in the day saw him supported by his character witness, the former Archbishop of Canterbury, Lord Carey - who described him as "a man of moral integrity... who wanted his best for his paper".
The Old Bailey was told that Mr Kuttner pressed Mr Goodman for information for a Diana book, which was to rival another being written by Andrew Morton.
The court heard allegations Mr Kuttner asked Mr Goodman to "assist" a friend, a journalist named in court as Nick Davies, by providing background information and stories for his book.
'Entirely false'
Mr Goodman's lawyer David Spens QC said: "One of the rumours about the forthcoming Morton book was that it would contain a story about a suicide bid by Princess Diana."
Mr Kuttner asked Mr Goodman what he knew about it, Mr Spens told the court.
"I am going to suggest he said nothing and you persisted in asking for detail , and he said that it is likely to be an overdose and that she saw a picture of her son and changed her mind and made herself sick," Mr Spens said.
Mr Spens said Mr Goodman told Mr Kuttner the rumours were "impossible to prove".
A story about Diana allegedly taking an overdose of pills later appeared in the Daily Mail, based on the book Diana: A Princess And Her Trouble Marriage by Nicholas Davies.
Mr Goodman had been "furious" with Mr Kuttner over the turn of events and fell out with him, Mr Spens said.
To which Mr Kuttner replied: "If the accusation is I leaked information, it's completely untrue and entirely false. I did not then or any time leak information."
Later, Mr Kuttner was cross-examined by prosecutor Andrew Edis QC, but under questioning he repeatedly said he could not remember details.
The former News of the World boss, who has suffered a stroke and two heart attacks since his retirement, said he did know know whether his memory loss was down to the "passage of time" or ill-health.
During cross examination, Mr Kuttner said it "might be justifiable" to pay a police officer for information.
He said if there was corruption at the "very highest level" of the police force then it should be considered, but added: "I have never run into that situation."
'Man of integrity'
The questioning came after the former Archbishop of Canterbury, Lord Carey, told the court he believed Mr Kuttner "was and is a good man".
He said he first met the NoW boss after approaching Rupert Murdoch about the publication of an insert in the paper on the first Sunday after the millennium.
Lord Carey went on to write articles on social and moral issues for the NoW after he retired in 2002.
"He is a man whose Jewish ethics went through his life and echoed mine as a deeply Christian ethic," Lord Carey said of Mr Kuttner.
Former NoW managing editor, Mr Kuttner, aged 74, is being tried alongside seven other defendants, including Mr Goodman, all of whom deny the charges against them.
The trial continues.