Net migration to UK 'underestimated' by nearly 350,000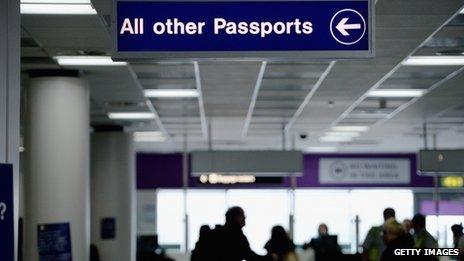 New year-on-year figures show the highest discrepancies came in the first four years after Eastern European countries joined the EU.
The ONS realised after the 2011 census that its previous projections had overlooked many people entering the UK.
A review found the main reason was "inadequate sampling" of migrants.
Net migration is the number of people moving to the UK minus the number leaving.
The government wants it cut to under 100,000 by the next general election - but it currently stands at more than 200,000.
The ONS's review looked into the quality of migration estimates, which are based largely on the International Passenger Survey (IPS) - a system designed to collect information about passengers entering and leaving the UK.
The IPS found some citizens coming into the UK from the Czech Republic, Estonia, Hungary, Latvia, Lithuania, Poland, Slovakia and Slovenia had not been counted between 2004 and 2008.
This was partly because IPS interviews focused on major airports such as Heathrow, Gatwick and Manchester - at the expense of regional hubs which were increasingly being used by migrants, the ONS said.
Regional airports in the UK were either not covered at all by the IPS or not fully covered, the ONS said.
Improvements were later made to the IPS, and from 2008 more interviews were conducted at major regional airports such as Luton and Stansted.
The ONS said: "There is evidence that shows the IPS missed a substantial amount of immigration of EU8 citizens [from the eight Eastern European countries named] that occurred between 2004 and 2008, prior to IPS improvements from 2009.
"This is evident from comparisons of IPS data with a number of other data sources related to immigration."
Migration Watch UK chairman Sir Andrew Green said: "This is final confirmation that net foreign immigration under Labour totalled nearly four million, two-thirds from outside the European Union.
"It also shows that the peak of net migration was almost 275,000 a year, making it even more difficult for the present government to get the numbers down to the tens of thousands."
Downing Street said David Cameron had "confidence" in the ONS.
The prime minister's spokesman said: "What the latest ONS statistics underline is the point at which, in the 2000s, immigration was out of control."
Carlos Vargas-Silva, senior researcher at the Migration Observatory at the University of Oxford, said: "We have known for some time that net migration must have been much higher during the 2001-2011 period than the official estimates had suggested.
"This report provides important evidence of the need for better migration data and of the limitations of using a survey to develop net migration data."
Related Internet Links
The BBC is not responsible for the content of external sites.