Nigel Evans verdict: MPs criticise police and CPS over prosecution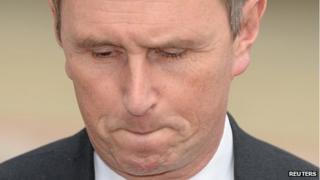 MPs have criticised the Crown Prosecution Service (CPS) and police after the acquittal of Nigel Evans.
Conservative MP David Davis, a former shadow home secretary, called for an "urgent review", saying there was "a risk of a serious injustice" under the current system.
Mr Evans, the former deputy speaker of the House of Commons, has been cleared of nine sex abuse charges.
Prosecutors said it had been "right" to put the evidence before a jury.
'Questions'
Mr Davis said: "This case has highlighted serious concerns over how the police and the Crown Prosecution Service bring sexual offence cases to court.
"In particular we must now review the process whereby the police and the Crown Prosecution Service put together a large number of lesser, subsidiary cases in order to reinforce one serious case when prosecuting sexual offences.
"It is clear from the way that this case proceeded that there is a risk of a serious injustice being done to an innocent man, and I would call on the attorney general to urgently review this issue."
Another Tory MP, Peter Bone, tweeted: "Good day for Nigel Evans but why was he charged in the first place? Serious questions for the police and CPS to answer! So pleased for Nigel".
Fellow Tory MP Alun Cairns referred to not-guilty verdicts in cases involving Coronation Street actors Michael Le Vell and William Roache.
"Surely prosecutors have questions to answer in Nigel Evans case, after Roach & Le Vell", he tweeted.
Mark Pritchard, Conservative MP for The Wrekin, tweeted: "Nigel Evans cleared on all counts. Lancashire Police and Crown Prosecution Service have some serious questions to answer."
Conservative MP John Whittingdale, who chairs the Commons Culture, Media and Sport Committee, said the verdict raised questions about why the police and CPS felt there had been enough evidence to charge Mr Evans.
'Clear accounts'
He told the BBC: "I would hope that they will certainly look at it. This is of course not the first time that a very high-profile figure has been charged with sexual offences and has been put through public humiliation and then been cleared."
Mr Whittingdale said charges had to be brought where the evidence merited it, but the CPS and police should "satisfy themselves" there had been a strong enough case against Mr Evans.
Daniel Burke, Mr Evans's solicitor, said the police and CPS put "far more resources" into the prosecution than they would have done with someone who "wasn't in the public eye".
Mr Burke told the BBC that, when allegations are made, the police should investigate them and the CPS should be able to reach a decision.
He added: "In this case, however, there is a difference in that the police appear to have gone to lengths to find complainants rather than complainants coming forward."
Conservative former prisons minister Crispin Blunt told Sky News: "There are no winners in this process, only victims; and that's why I do think the CPS should examine their procedures and the way this prosecution was conducted because the whole process hasn't helped anybody and the verdict has not come as the slightest surprise to me."
However Detective Superintendent Ian Critchley, head of public protection at Lancashire Police, said the decision to charge Mr Evans was made after "very careful consideration".
He said police and the CPS believed there was "sufficient evidence to justify a realistic prospect of conviction".
'Reasonable doubt'
"We have worked closely with the Crown Prosecution Service from an early stage, and all of the evidence was subjected to careful scrutiny before a decision was taken to charge, particularly where complainants did not see themselves as victims," he said.
A CPS spokesperson added: "The complainants in this case provided clear accounts of the alleged offending and it was right that all of the evidence was put before a jury.
"That evidence could only be fully explored during a trial and the jury has decided, after hearing all of the evidence, that the prosecution has not proved its case beyond reasonable doubt. We respect this decision."
A Downing Street spokesman said David Cameron had "confidence" in the work of the CPS and decisions around prosecutions were "a matter for the CPS".
Speaking after the jury delivered its verdict, Mr Cameron said he was sure Mr Evans "will want to get on with working with his constituents".