Phone-hacking: News of the World a force for good, says Sara Payne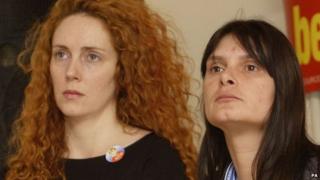 Rebekah Brooks is "a really sweet girl" and the News of the World was "a force for good", the mother of murdered schoolgirl Sarah Payne has told jurors at the Old Bailey.
Sara Payne, whose daughter Sarah was killed in 2000, campaigned with the paper to change laws on paedophilia.
She said, when she could not sleep, she could call Mrs Brooks at 02:00 and the ex-editor would pick up the phone.
Mrs Brooks, 45, denies three charges including conspiracy to hack phones.
The other charges are conspiracy to commit misconduct in a public office and conspiracy to pervert the course of justice.
'Not perfect'
Mrs Brooks launched the now-defunct paper's "Sarah's Law" campaign, which included naming sex offenders.
Mrs Payne appeared as a character witness for Mrs Brooks's co-defendant, former News of the World managing editor Stuart Kuttner.
She told the jury that Mrs Brooks and Mr Kuttner had given their personal support during the search for her daughter and the campaign that followed.
"It's easy to forget in these dark times the News of the World has often been a force for good and it has something to do with the people who worked on it," she said.
She added: "I do not pretend they are perfect or always got things right."
Mrs Payne said Mrs Brooks was "really sweet natured".
"She had a certain directness about her - she would like to speak directly about things," she added.
The former newspaper editor was "always in the foreground" of the campaign and they had worked "as a team", sharing research, Mrs Payne said.
"I did not sleep. I could call at two o'clock in the morning and she would pick up the phone."
'Good guy'
Of Mr Kuttner, Mrs Payne said: "Stuart is a gentleman.
"He is everything my parents taught me about being a gentleman and having manners.
"He is a good guy - he has always been there to listen, day or night.
"Stuart's been with me through many, many things."
Former Press Complaints Commission (PCC) director Lord Black, also appearing as a character witness for Mr Kuttner, said his "very good friend" was "a man of the greatest integrity".
Lord Black said that, during his time as PCC director from 1996 to 2003, he often turned to then News of the World managing editor Mr Kuttner for help and he "never did let me down".
After the Omagh bombing in 1998, Mr Kuttner and the News of the World "led the way" for the media to leave the area in order to let the community "grieve and heal", Lord Black added.
'Refute strongly'
Mr Kuttner later denied holding back a lead from police investigating the disappearance of murdered schoolgirl Milly Dowler.
Andrew Edis QC, prosecuting, said Mr Kuttner had brought the police's attention to a voicemail that suggested Milly was still alive.
But that was only after News of the World journalists had been sent to Telford to try to track her down, Mr Edis added.
Mr Kuttner replied: "I saw in the weeks following the disappearance of Sarah Payne the effect of a missing child on a family.
"So if the suggestion being made about me is I sat on, held, delayed passing on information, I could not refute that more strongly."
'Direct dealings'
The prosecutor also asked Mr Kuttner about his dealings with convicted phone hacker Glenn Mulcaire.
Mr Edis said the private investigator, who was jailed for six months in January 2007 after admitting intercepting voicemail messages, was paid more than £100,000 a year by the News of the World "as far as anyone could see for doing nothing at all".
"Of all the senior management at the NotW, you were the one who had the most direct dealings with paying Glenn Mulcaire, were you not?" Mr Edis asked.
Mr Kuttner said Mulcaire's payments were among "many thousands" that went through his office, but refuted allegations he had tried to conceal them.
"You knew what he was being paid and you also knew there was not a single document in existence to show what he did for the money," Mr Edis said.
"His activity was criminal phone hacking and you knew it," he added.
Mr Kuttner rejected the allegation saying "such conduct, such behaviour, such activity is as remote from my concept of newspapers as it is possible to be".
The case was adjourned until Monday.
Mr Kuttner, 74, denies conspiring to intercept voicemails.
He is being tried alongside Mrs Brooks and five other defendants. All deny the various charges against them.