'More than 600' Gibraltar incursions since 2013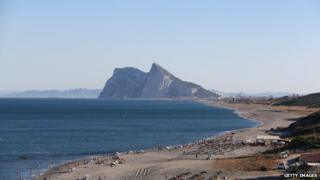 Spanish government ships have entered British waters around Gibraltar more than 600 times since the start of 2013, the Foreign Office has said.
There were 496 unlawful incursions during 2013, with a further 112 in the first three months of 2014, it said.
Foreign Secretary William Hague said the incidents were "unacceptable".
He warned Britain would use "proportionate naval, police and diplomatic responses" to protect the area from further violations.
Collision
The incursions come amid increased tensions between Britain and Spain over the territory.
The Spanish ambassador was summoned by the Foreign Office earlier this month after one incident involving a collision between a Spanish Guardia Civil vessel and a Royal Gibraltar Police vessel.
On Friday, Mr Hague said: "The Royal Navy challenges Guardia Civil and other Spanish state vessels whenever they make unlawful maritime incursions into British Gibraltar territorial waters.
"We back this up by making formal diplomatic protests to the Spanish Government about all unlawful incursions. Our challenges and protests make clear that such incursions are an unacceptable violation of British sovereignty."
Stricter controls
The Spanish ambassador, Federico Trillo, has been summoned to the Foreign Office in relation to Gibraltar four times since the government in Madrid took office in December 2011.
Relations between London and Madrid have deteriorated since Gibraltar built an artificial reef last year.
Spain said the reef would damage its fishing industry and, shortly afterwards, imposed stricter controls at its border crossing with Gibraltar.
In February, the Foreign Office issued a formal protest after a Spanish warship entered waters around Gibraltar and disrupted a Royal Navy training exercise.
Spain disputes UK sovereignty over Gibraltar, which has been controlled by Britain since 1713.